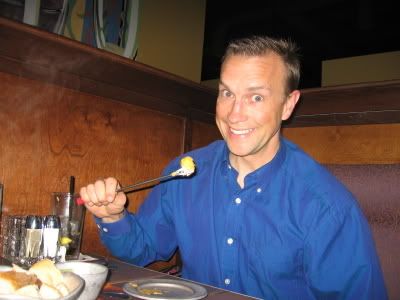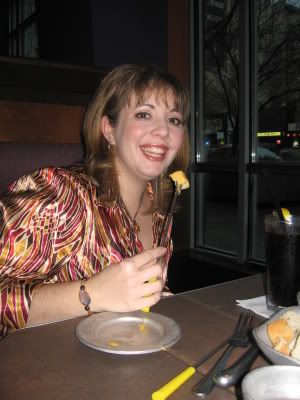 Last night Steve and I finally had our HUGE date night. My parents came up from Ferron to watch the chidlren and Steve and I snuck off to Salt Lake to have dinner at The Melting Pot. I had never been there before, but was very excited to eat somewhere that did not had out crayons and placements with cartoon characters on it. We started off with cheese fondue and breads, apples and veggies to dip in. Then we had a yummy salad and following that we had our main course a broth with garlic and citrus flavors to dip our meats into. The meats come RAW on a plate and you skewer them on a stick and place them in the pot to cook for about 3 minutes. We had different cuts of beef, some chicken and a lobster tail. Then finally the best part arrived CHOCOLATE!!! We had caramel and nuts swirled in the milk chocolate and then we proceeded to dip our strawberries, bananas, chocolate cake, cheesecake and pineapple into the fondue. It was such a neat experience. Steve was not extremely excited about eating there,
I think he thought it would be too Foofy.
BUT once we were done (2 hours later) and waiting for our check it admitted it was better than he was expecting.
I highly recommend it to anyone wanting a quiet, relaxing, romantic meal...