Sorry I have been missing for a while.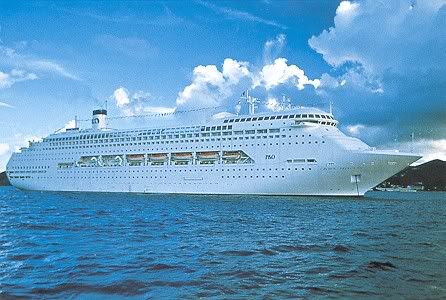 Steve and I went on our cruise with 6 other couples from our neighborhood: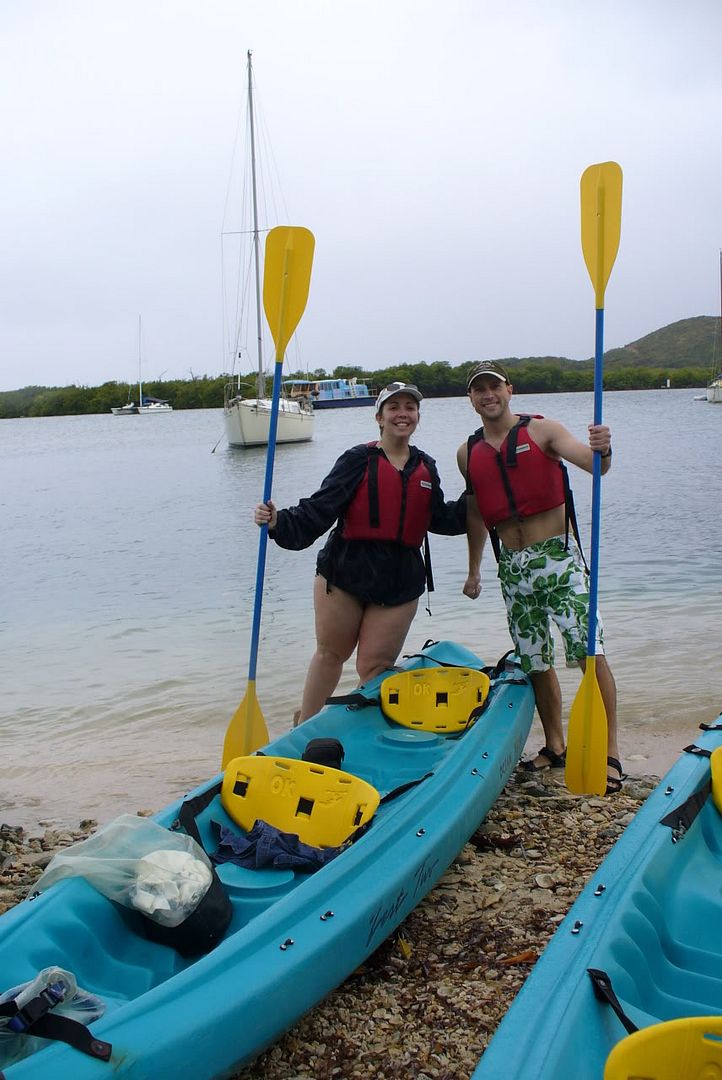 Brian & Suzanne,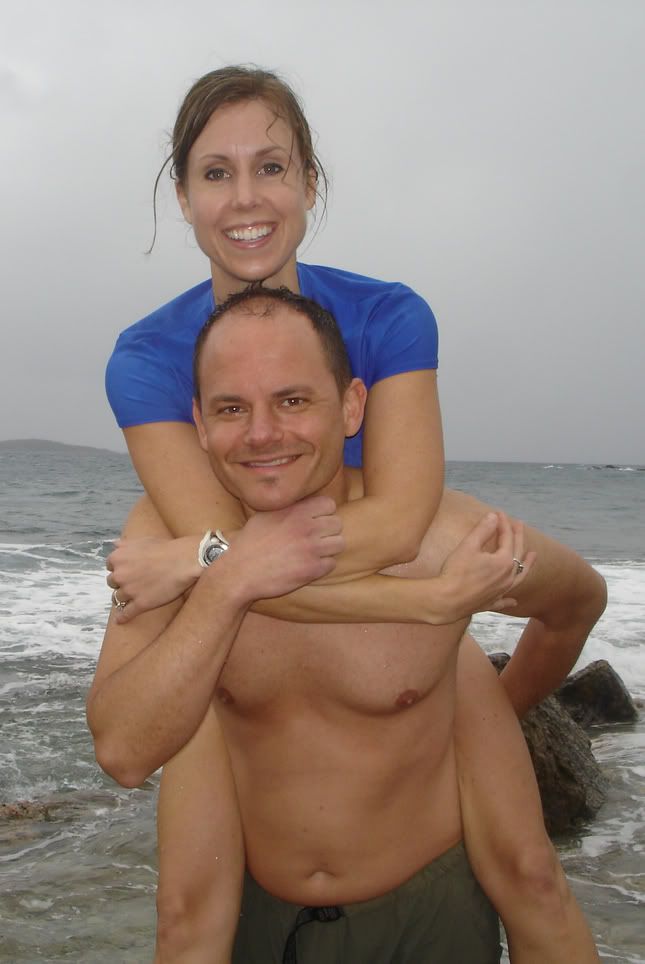 Ken & Wendy,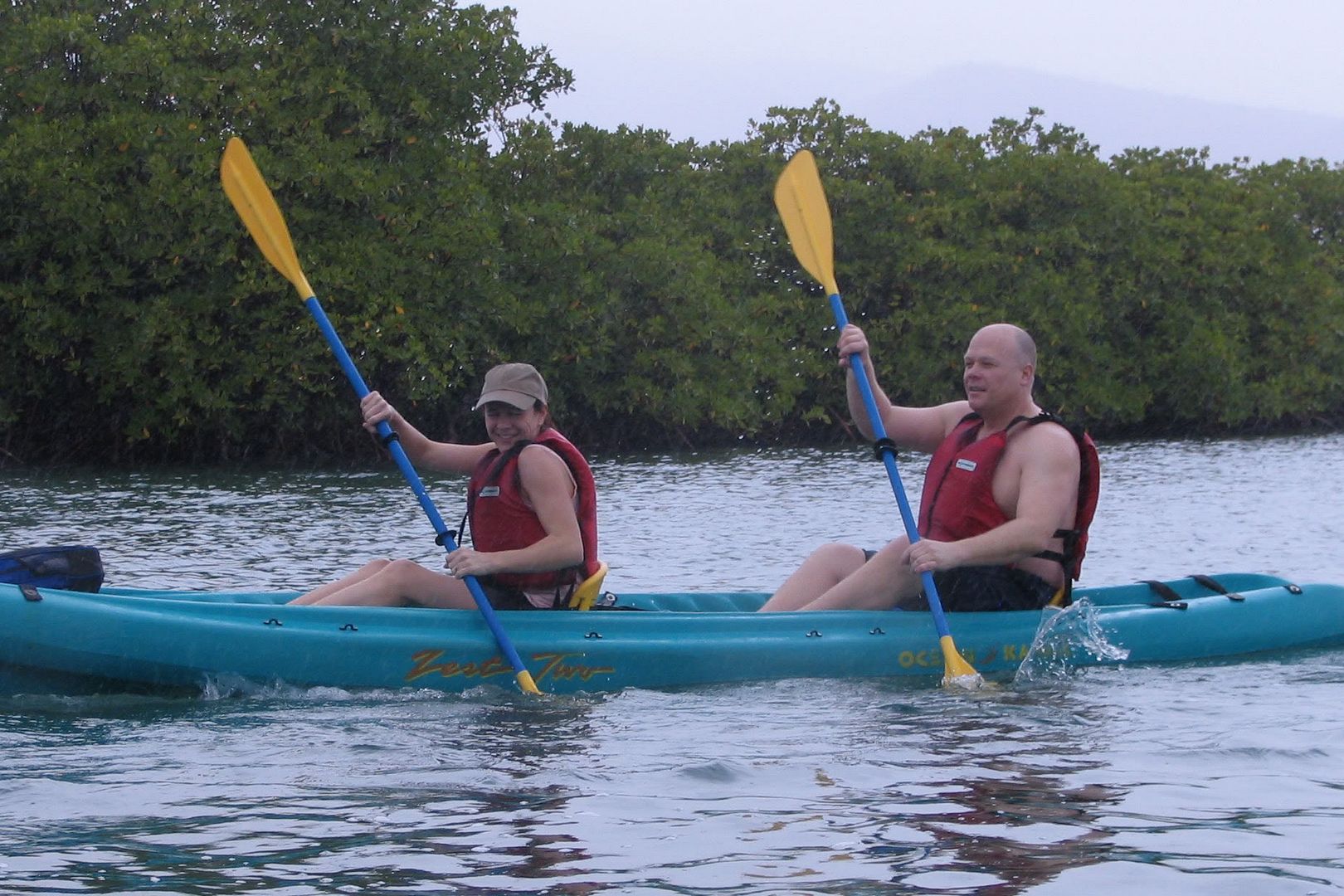 Derek & Stacey,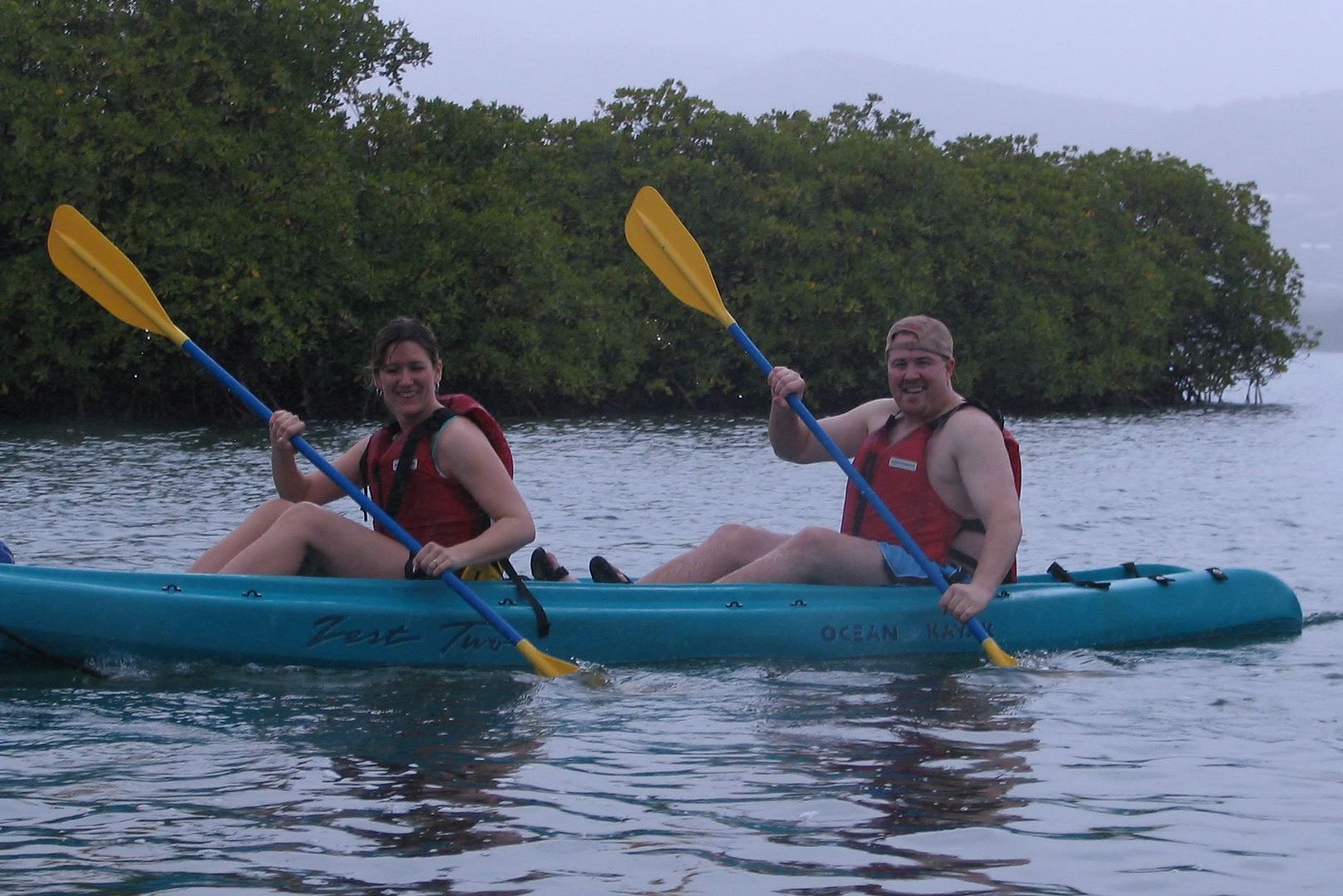 John & Sandra,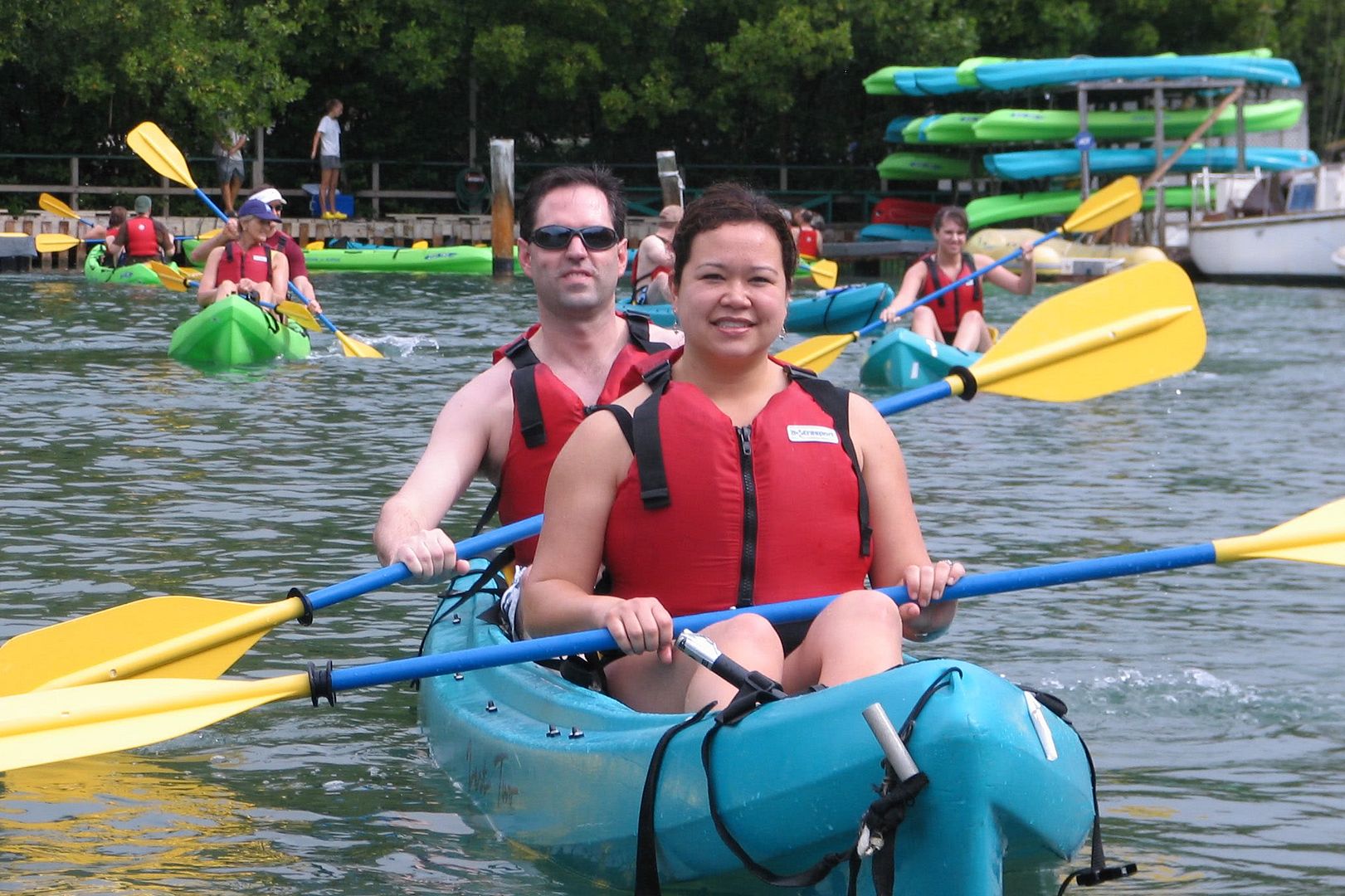 Chris & Beth,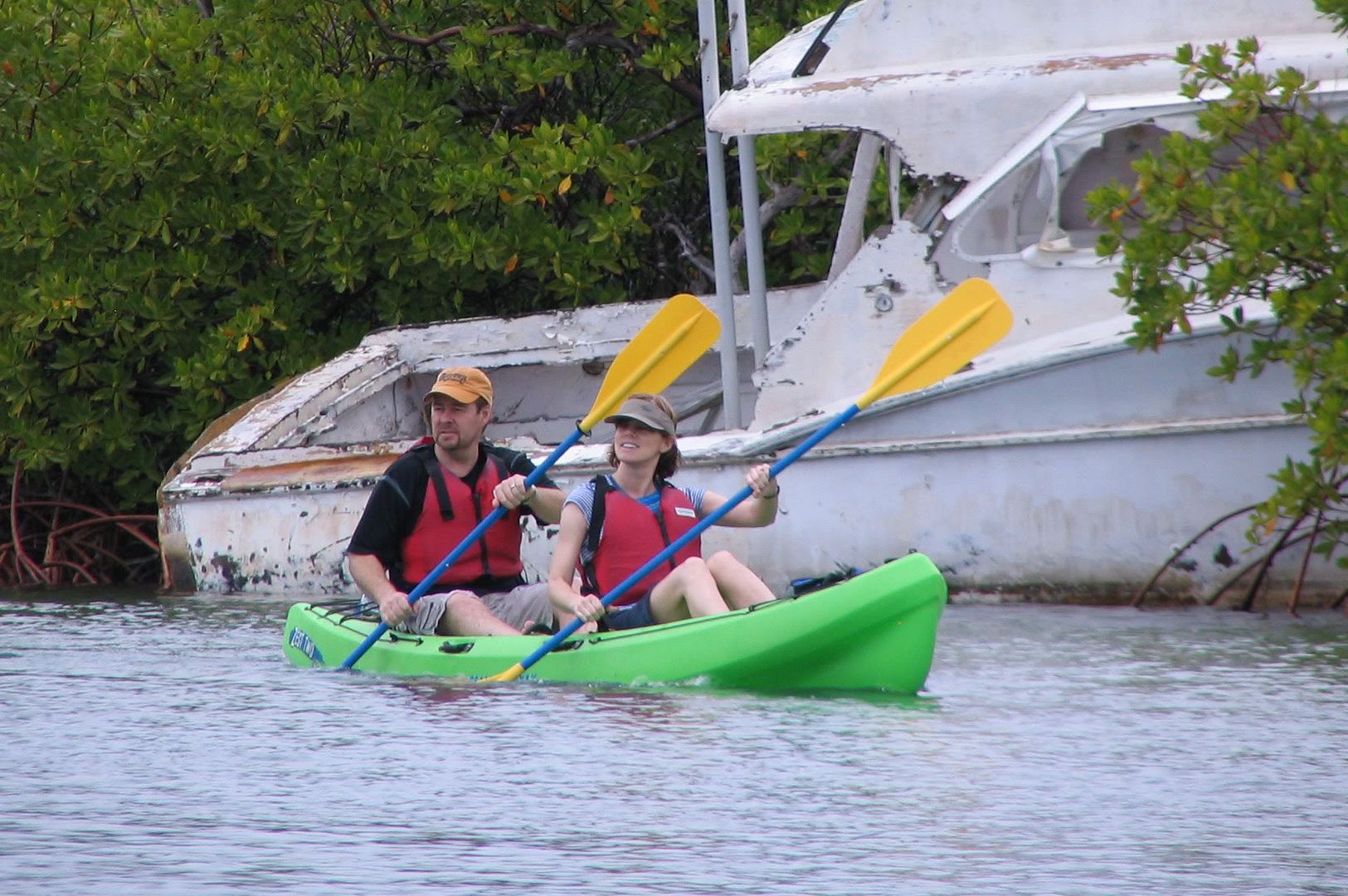 Mike & Nanette.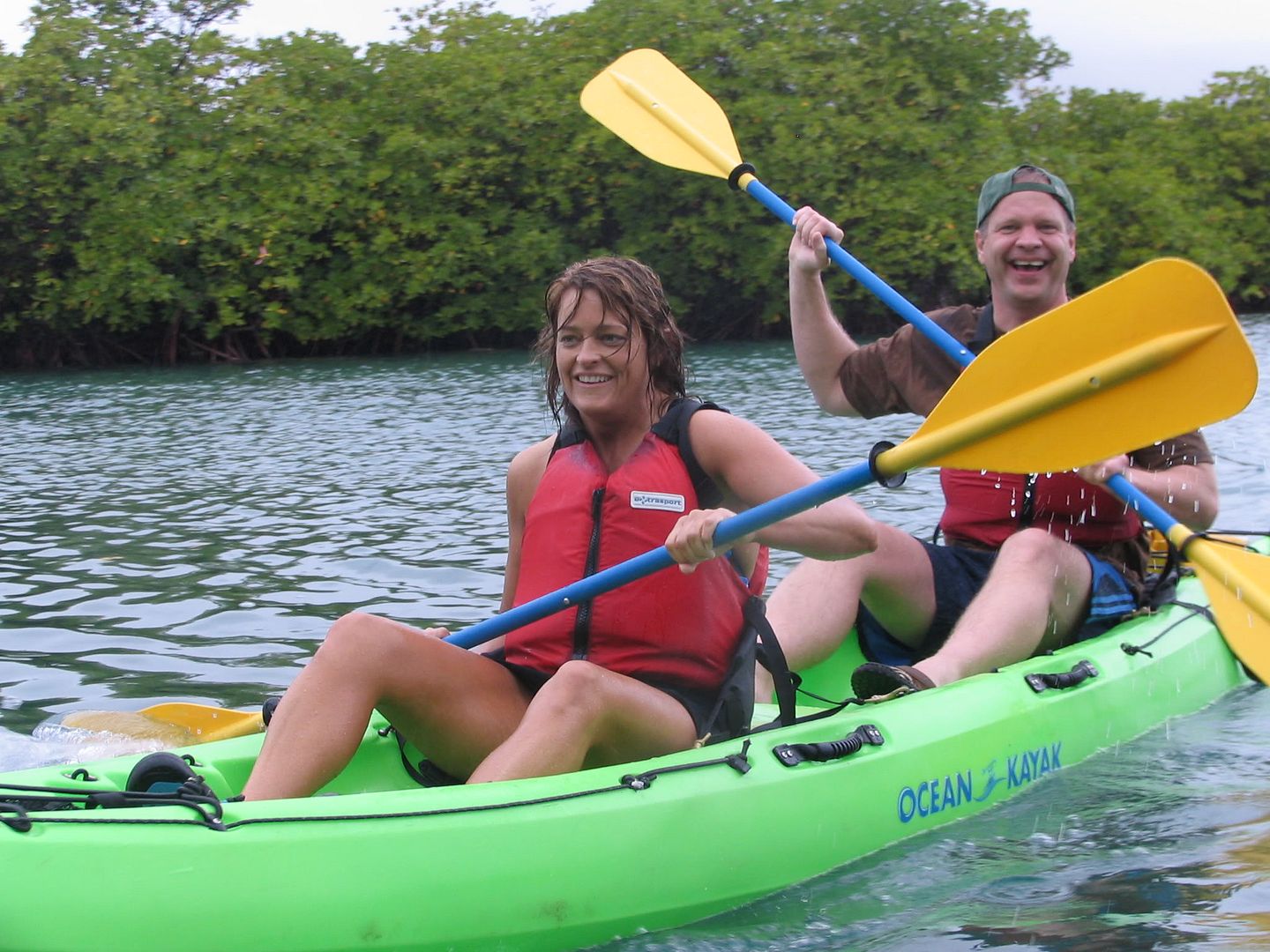 (this is not Mike...he was off golfing)
We flew out of SLC on Saturday morning early and arrived in Puerto Rico where we boarded the Crown Princess to begin our cruise. Steve and I spent the evening wandering around the ship with Sandra and John, hit the buffet for some dinner and then settle in on the deck lounger to watch a movie. We pulled out of port at 11:00 pm and woke up Sunday morning in St. Thomas.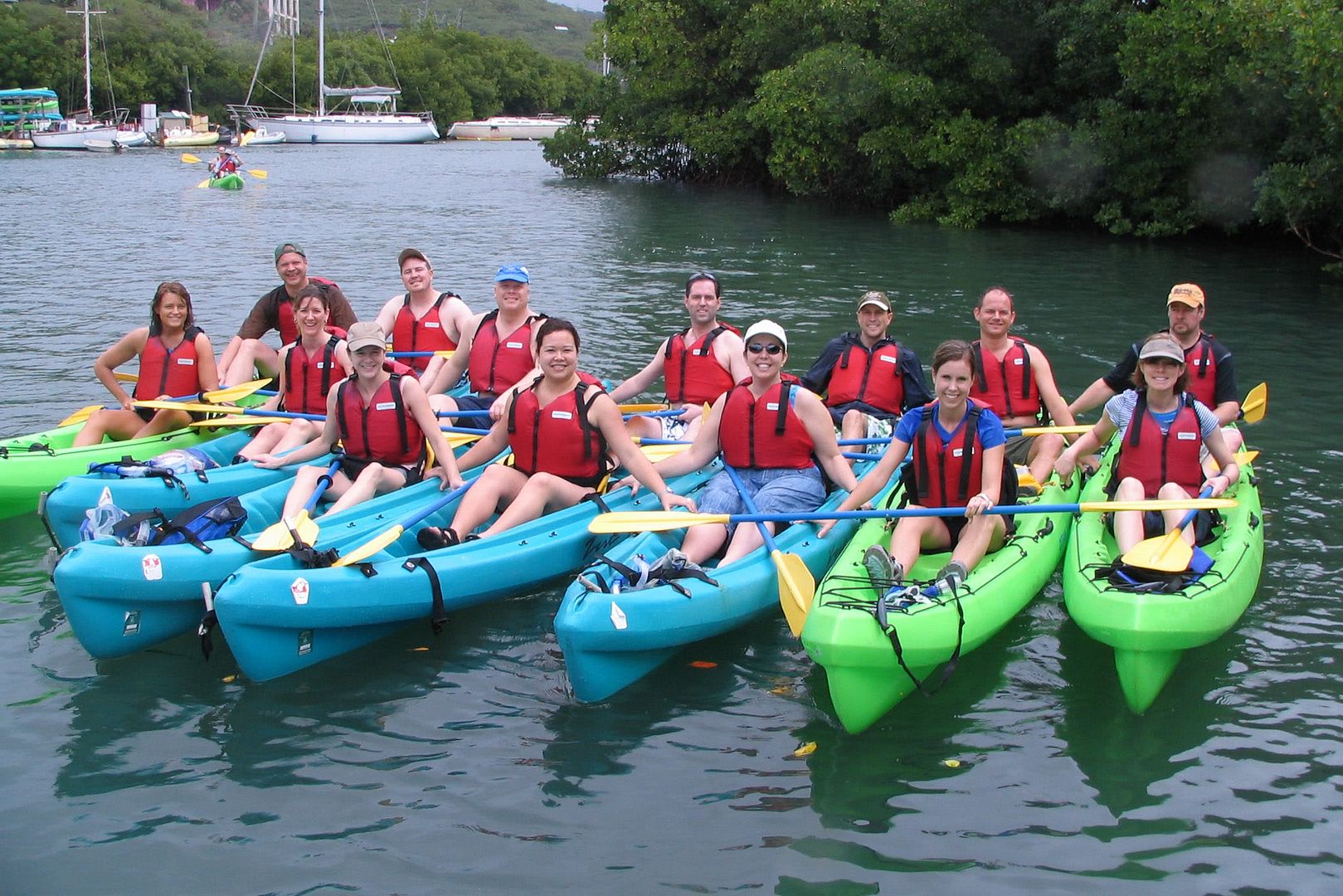 We dressed for our "Kayaking, Hiking, Snorkeling". We all gathered off the ship and took a van ride to EcoTours to learn a lottle more about the mangroves. We sat under tents and they began to explain what we would be doing and what gear we should bring with us. Then suddenly it began to rain...not just sprnkling, but raining HARD. it finally let up a little and we made our way to the docks to board our 2 person kayaks. I was so excited to get into the kayak. We began to paddle our way through the mangroves. We had a cool guid that explained way the mangroves are so important to the ecology of the area. It was actually very cool to learn about it all.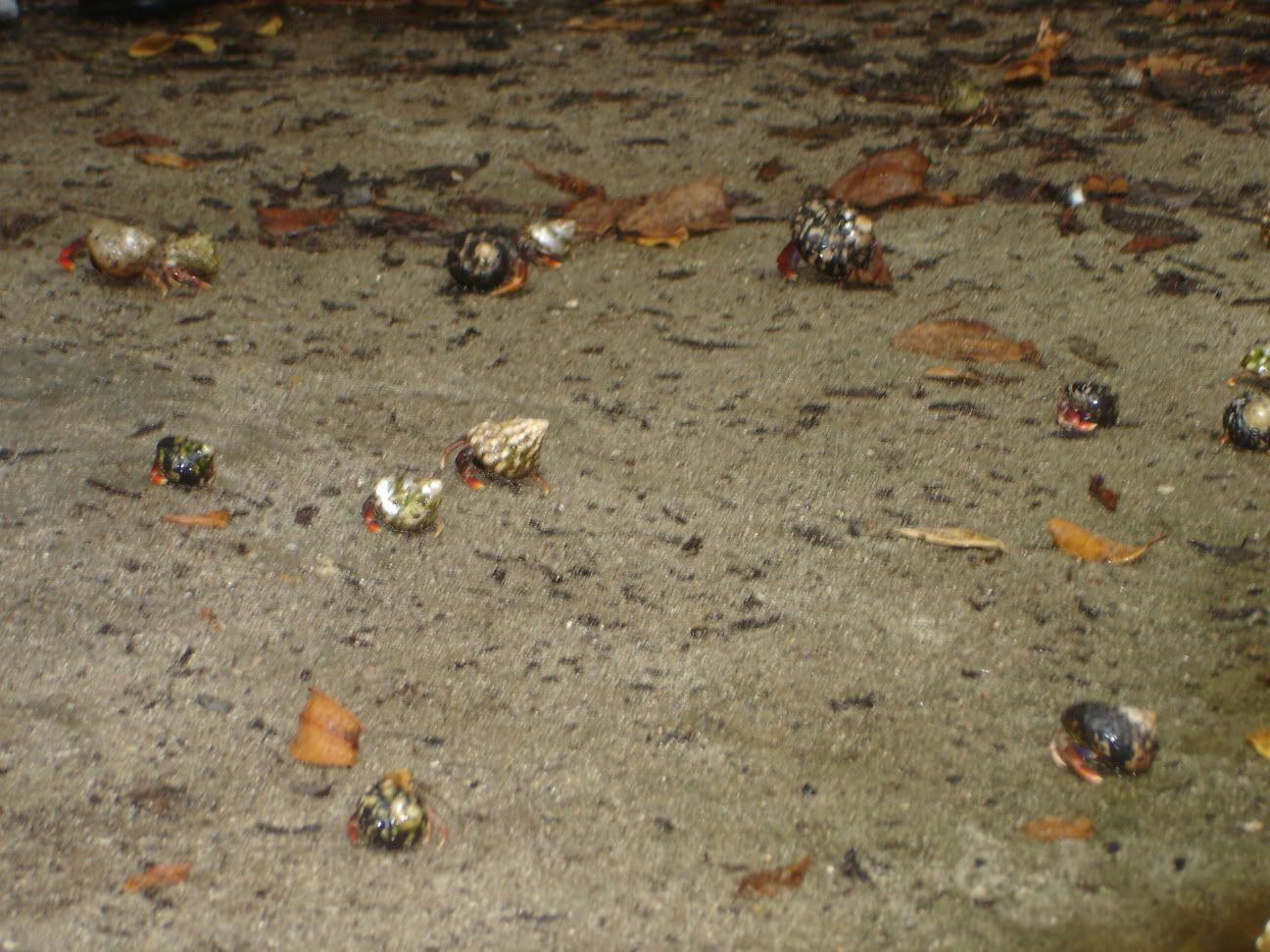 We beached our kayaks and were then instructed to find a hermit crab that we could enter in a race. at first glance you did not see the hermit crabs, but as we got closer to the trees and studies the shells on the ground a little closer you ound that there were actually little critters living inside.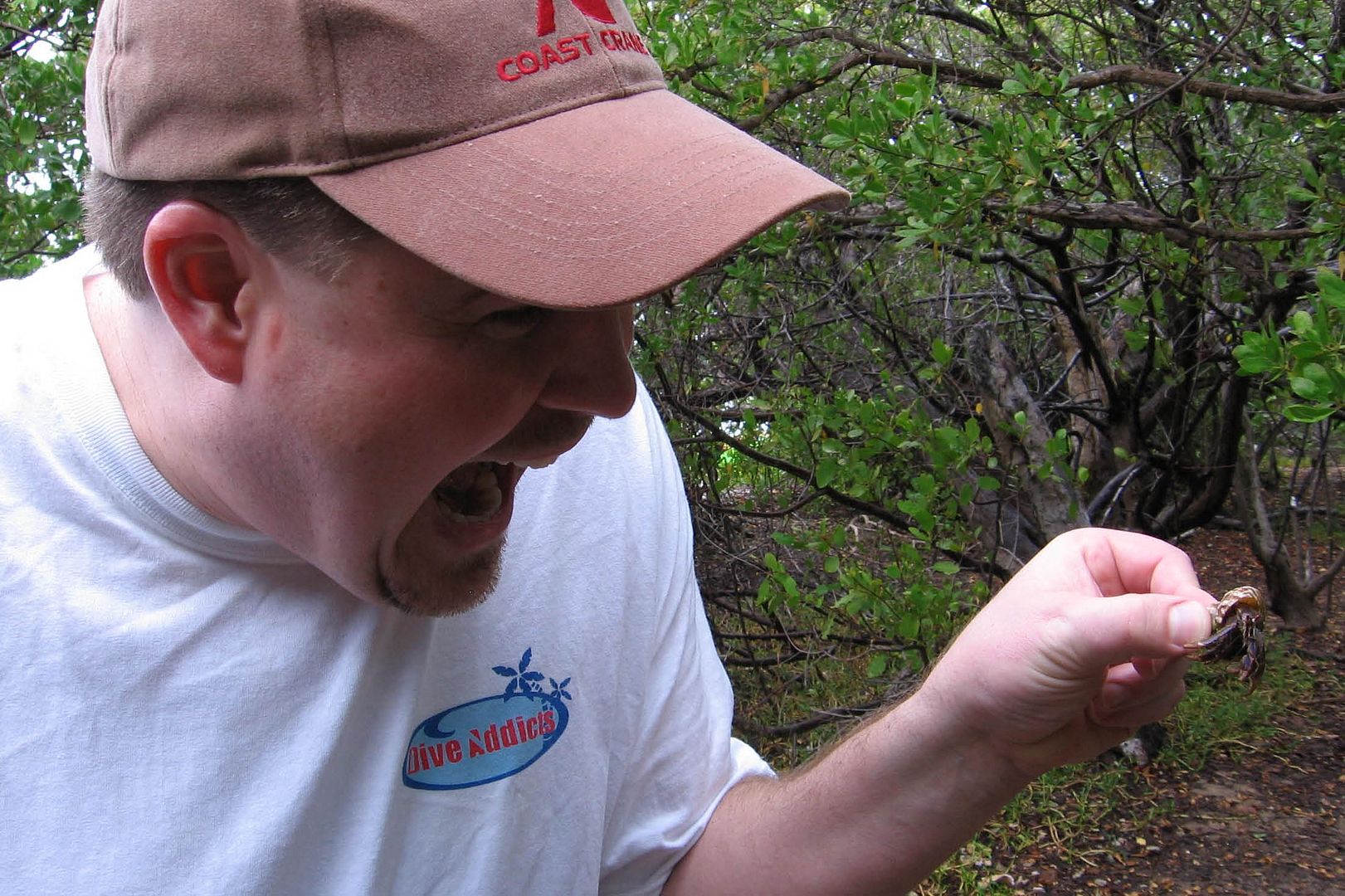 I found a little one that was quite spunky...I called him Floyd and brought him over to the starting line. The race was on. Floyd was a little slow coming out of the starting gate, and towards the end really made a stronger effort, but only took 4th place.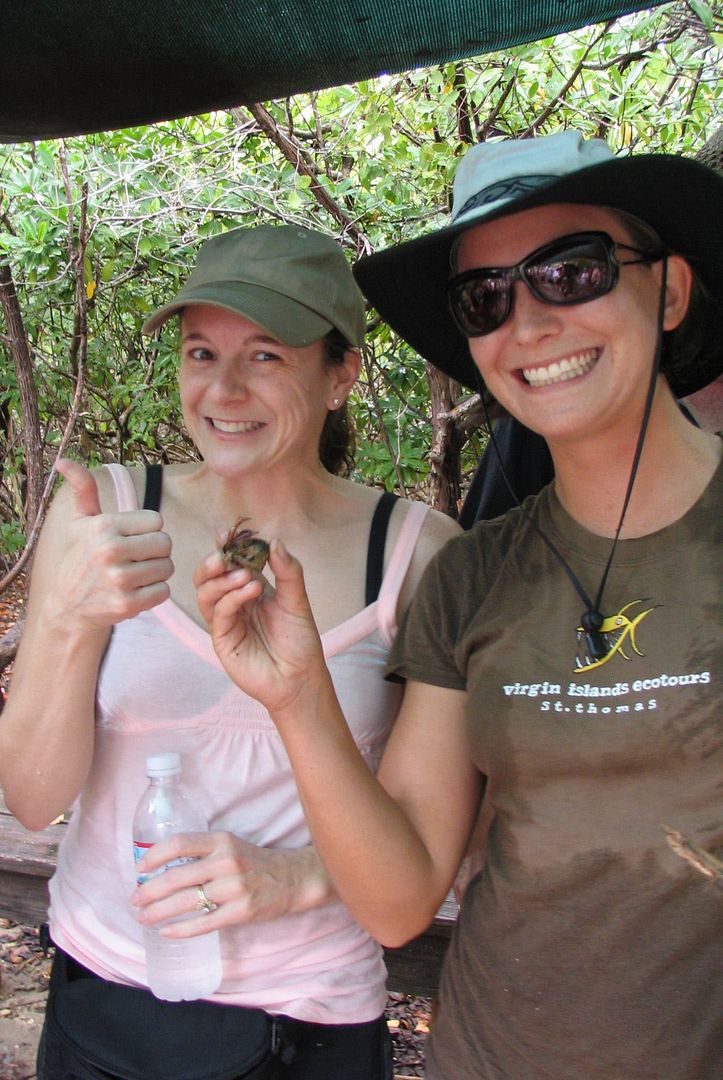 Wendy's hermit crab won and this entitled her to an ice cream sandwich.
After the "Hermit Crab Races" we took a hike to ocean. It was beautiful...rocky...waves crashing. We took some cool pictures of the different couples in our group, but unfortunately we we unable to stay for very long. We were on our way back to where we had grounded to being the snorkeling portion of our excursion. It took me a few minutes to remember how to breathe, but once I mastered it, I thoroughly enjoyed it. It was so peaceful in the water. There was another guide that would point out some the cool critters that were in the water with us. We saw a VERY LARGE BARACUDA. That was pretty freaky. Before I knew it, our time was up. We had to snorkel back to the kayaks, dry off, have a snack and head back to the docks.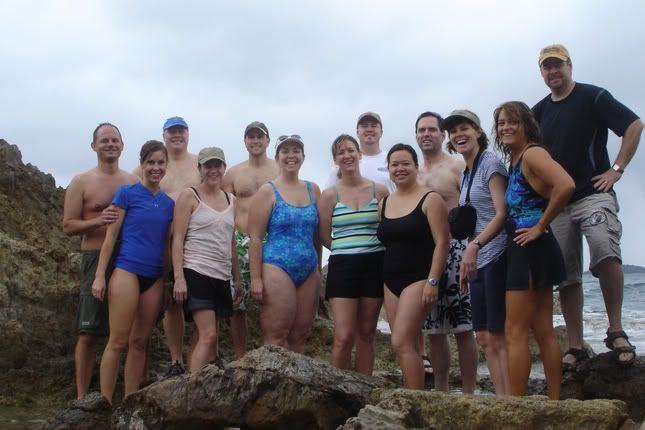 It was definitely a great first excursion. A little bit of a bummer to not have some sun, but we had high hopes that we would find that sunshine in St. Kitts, the next day.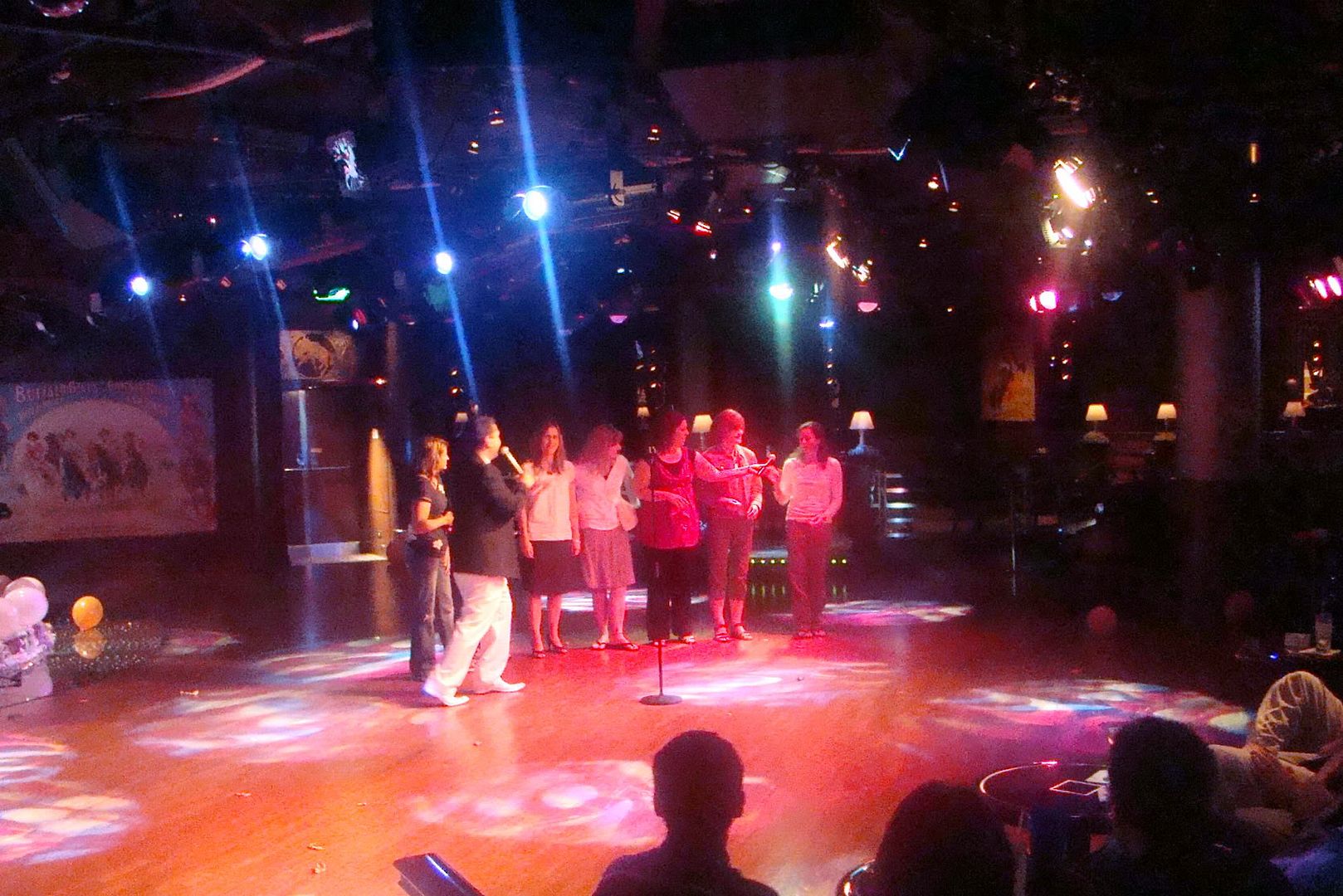 That evening we had dinner in the DaVinci Diningroom and then we made our way to watch some Karaoke. Not only were we watching the Karaoke performances, but we decided to perform. First Nanette's husband Mike got up and performed the song "Getcha Some" by Toby Keith. He was very good. Nanette stood in the audience and cheered him on.
Then after 12 people had gotten up and performed it was announced that Nanette and the Pips (
that was us
) were about to perform. It seemed like a good idea at the time. We had picked the song, "Girls Just Want to Have Fun" by Cyndi Lauper. We all felt so good about our song choice, but what we had forgotten was there were only 4 lines to the whole 3 minutes of song.
It was a fun thing to do...
I can say I have karaoked...
but I don't know if I will ever do it again.