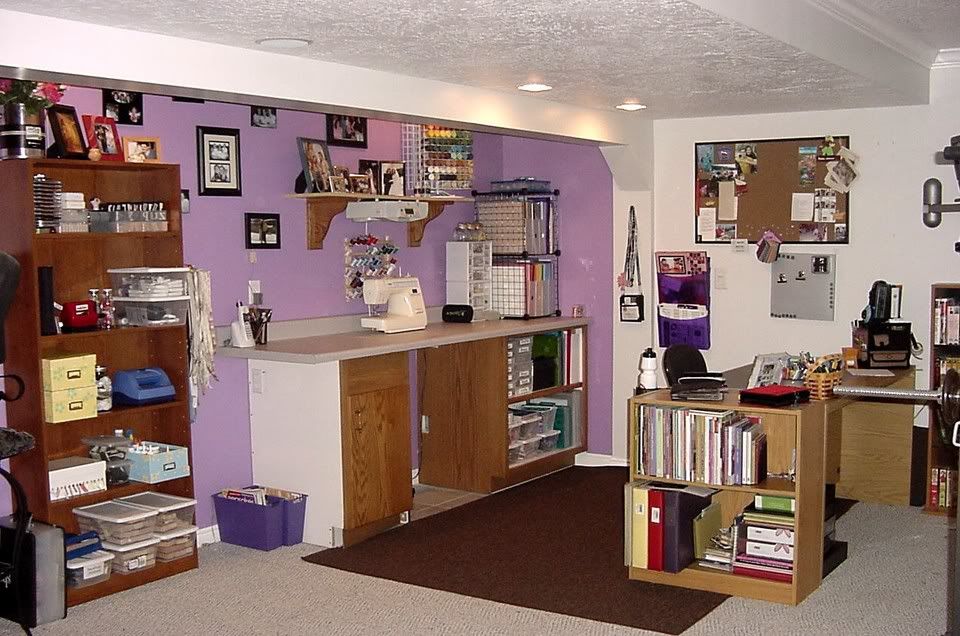 We finished the room in about 36 hours. Steve took out the bar and had to deal with plumbing and electrical issues. We reused the cabinets from the bar and put them on the wall. Then we bought a counter top that was 8 feet long. I reused the big desk to do most of my scrapping on. Steve and I ran out and bought a prefab bookcase to store some of my other supplies on.
I am absolutely in heaven. I have wanted to expand my scrap space for sometime now and I am so lucky that Steve allowed me and gave up his whole day off to make it happen. I am still in the basement family room, but with the wall painted purple and the openness of the whole layout I feel as if I am in my own space.
The kids are VERY ready to go back to school They are actually asking me when they get to go back. In some ways I enjoy having them home with me, BUT because it is only for a few weeks we don't have very much
structure...
and I think we all need structure. My parents are coming up for a few days starting today. I love living so close to my mom and dad. After living on the other side of US, I am really relishing this. I think they get quite a kick out of being a larger part of the kids lives.
Speak of the devil...They just got here. I'll have to finish up later!!!