I have a stack of scrapbook projects I am trying to work on. I still have not quite finished my Ali Edward's
A Week in My Life
album and now I have a HUGE box full of all the components for my
SHE
album staring at me everytime I look at my desk. But before I can tackle either one of those projects I have a few others that are time sensitive. I am working on 3 projects for the Junkitz Design Team Contest. I would LOVE to win, but serious they are only picking 3 and there are some very talented women out there trying for this. But you have no chance of winning if you never even enter. Right?
The next project I am trying to crank out is a school album. I saw this design in a Scrapbook Etc. Magazine,
I wish I could remember who made the page so I can give her the credit
, and LOVED IT!!! It is so simple and clean. I have been working on 8 1/2 x 11 versions of this. I got some of those cool Scrapworks albums that look like a box for each one of the kids. Well, our ward is doing an auction called Angels Among Us for Enrichment Night next week and you have to bring in an item to be auction that reflections you talent or interest. I guess when we get there, we will answer a questionnaire and receive points for each answer. Then we can use those points to buy the items that are brought. It sure sounds fun. Well, it was pretty easy to come up with what my talents was. I thought one of these school books would be fun to make.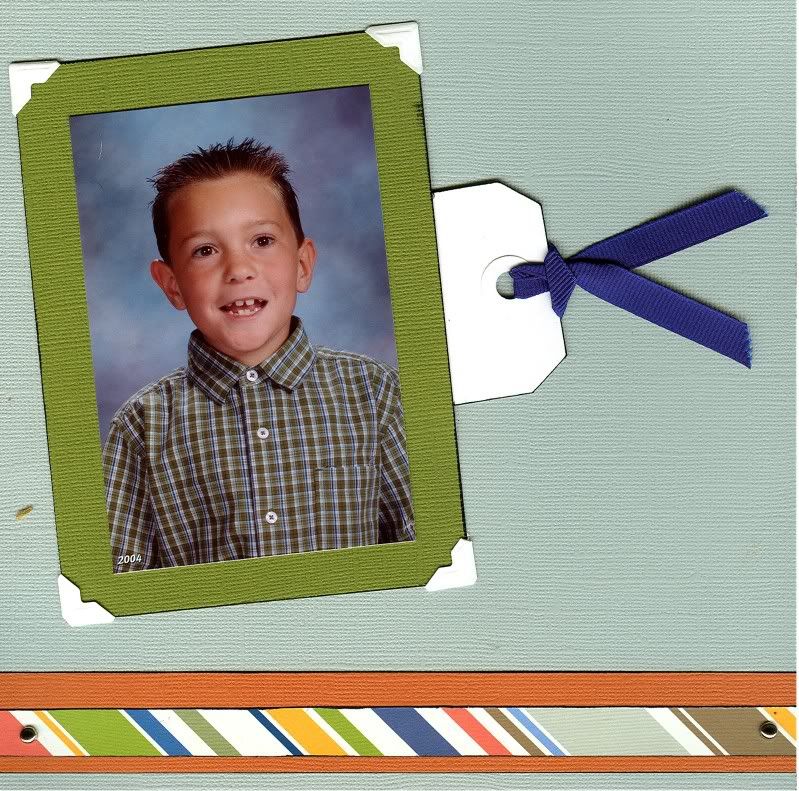 This one is 8x8. On the little tag that is tucked behind the photo you can right down any tidbits of information like who their teacher was, any friends they had that year, maybe have them sign the card to have an example of their writing. The space is large enough for a 3 1/2 x 5 school photo.
Then on the 2nd page there are pockets to store some of their papers from school maybe a copy of their art projects. Then in the next pocket you can store their report card and any awards that got that year. So I made one of those this week. Kindergarten-12th grade to be auctioned off. I put it in a black album. All I have to do now is decorate the album and it will be good to go.
There is other things happening in my life besides scrapbooking. I went to my book club meeting last Thursday. We had read "The Secret Life of Bees". I only got half way through, but it is a good book. This month we are reading "Five People You Meet in Heaven". I am looking forward to that. I met with the rest of the Primary Presidency on Thursday also and put the finally touches on the Program the children will be participating in two weeks. I have 1 more week of the children being off track. I think they are even a bit antsy to go back to school. Last week we went to the movies with some of our friends to see Sky High and then a few days later we went to the Church Museum in Salt Lake and the kids got to play with their friends and then we went to the Sky Box for lunch. That part was a bit crazy, but all in all FUN!! I think we are going to the Children's Museum tomorrow. It is nice having these outings to help break up this off track time.
Looking forward to quiet afternoons!!!