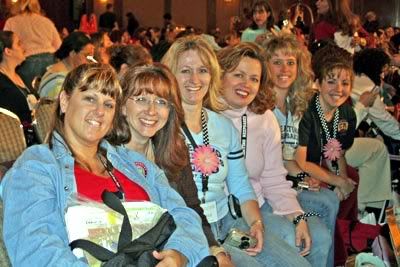 For months I have had a secret. All my friends in Utah have known and Sarah from Maine knew, but that was it. I surprised my friends from Maine last Wednesday by showing up for CKU in Stamford, Connecticut.
They got to the hotel about 9:30 pm and knocked on the door and I answered it. Kim was the first one to see me and she just stared at me and then started to yell, "what are you doing here?...Oh my GOSH!!!" Melanie was in the hall saying, "I knew she would be here...I just had a feeling." It was awesome. They were so happy to see me.
I had a great time at CKU. The best part for me was just the time I spent with my Maine Girls. We also got to be in the audience while they broadcast a QVC show.
That us sitting in the audience in the picture. From left to right: Melanie, Kathy, Michele, Sarah, Kim and me.
I think we were in some of the audience shots. It was all fun. I took lots of great classes and made some cool projects, but the coolest thing that happened was the last night we were there. I had entered the fall album cover that I made, and posted here a few weeks ago, in their album cover contest. I did not think I was going to win. BUT I DID!!! A big box full of product. I was tickled pink. ThenI had also entered a few cards into the teacher appreciation contest and got an honorable mention for the card I had made for Sweetwater Paper. I got a $50.00 gift certificate for that. Another really cool thing happened on the way to the airport. I had to catch a shuttle at 5:00am in the morning and got to ride with Stacy Julian the editor-in-chief of Simple Scrapbooks Magazine. She is just such a neat person and it was fun to have a one on one conversation with her. She is one of the most genuine people I have ever met.
As usual I got VERY little sleep and was completely exhausted when I got home yesterday afternoon. It will probably take this whole week to get over all the "fun" I had last week.