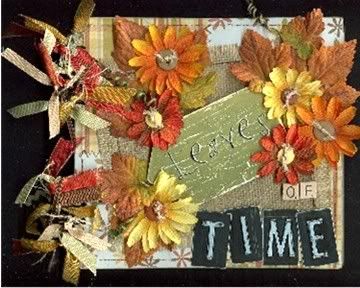 It has begun to feel like fall. We have the straw bales and corn stalks decorating the front of our house, but the other day I looked out our front window and noticed that the scrawny maple tree had changed colors and was this vibrant red. It made me think of the falls I had experienced in Maine.
I was inspired to make an album to scrap my fall pictures and memories. I love this time of year. This is my favorite season.
* HOT COCOA
* SNUGGLING IN A BLANKET
* FIRE IN THE FIREPLACE
* WARM COLORS, orange, yellow, rust
* REMEMBERING WHAT I AM THANKFUL FOR
The children go off track for 4 weeks beginning this morning. So I have spent the last 2 days assisting with class "Harvest" parties. I am so grateful for Steve's job and his willingness to allow me to stay home with the children. It has been so important to me that I get those opportunities to be in the classroom. Katie and Becky were allowed to wear their costumes to class yesterday. Katie was a Cowgirl and Becky was a Bobby Soxer. My friend Lucy said that the girls had been over to play with her daughter and she had asked the girls what they were going to be for Halloween a few weeks ago. Katie said she would be a cowgirl, but Becky's answer was less clear..."I am going to be a french girl", Lucy thought maybe she was going to be a Can-Can dancer. She asked Becky what she was wear..."I am wearing a scarf on my neck, my hair in a ponytail, and a skirt with a "french" poodle." Too funny.