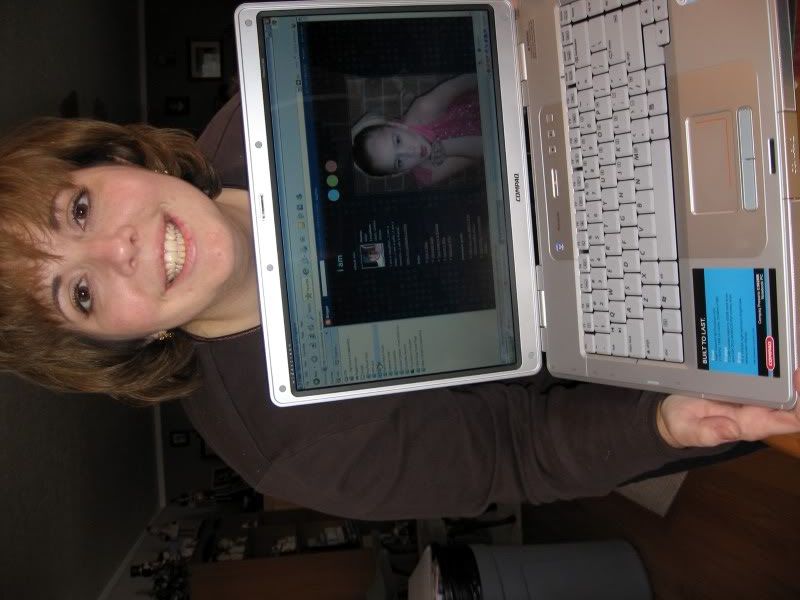 WHOO HOO!!!! I GOT MY LAPTOP!!!!
I had been a little nervous that I was not going to get a laptop for Christmas. I made hints all year long about wanting one. Steve got one last Christmas and I was envious of how he could use it ANYWHERE!!!
He got up early in the morning on BLACK FRIDAY and went to Circuit City to cash in on a deal. I went out with my friends Stacey and Dayna. As we shopped I got a call from Steve telling me, "I am never going to do that again...I didn't get it...They only had 8 of them and you needed a voucher." He sounded so sad. For the next 4 weeks he very diligently looked through the Sunday ads in search for a get deal. And every Sunday he seemed disappointed. I was beginning to feel a little bad and stopped hinting about the laptop. I even told him a few weeks ago to not worry about it. I would love whatever I got.
Then Christmas morning he handed me my first gift from under the tree. It was a large box (much too big to contain a laptop). I opened the box to find a Compaq Presario box. I was ecstatic. My adorable husband had tricked me.
So I have to say I had a pretty AWESOME Christmas. Hope this entry finds you all happy and still on a high from Christmas.