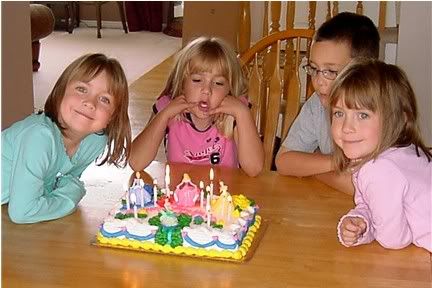 MY BABIES ARE 6!!!
We celebrated the twins birthday yesterday. Friday was their birthday, but I had spent the whole day at the Scrapbook Expo (which was a lot of fun!!) We have decided to not have big birthday parties every year, but every other year for the kids. This decision was not privy to the girls and they began to tell people they were having a party. We explained to them that we would just be having a family party rather than inviting friends over. They were okay with that a did not complain (I was so proud of them). Well, I guess Friday while I was gone one of their friends in the neighborhood came by and delivered a gift. Katie said,

"We are not having a "fun" party, just family."
Then later as Steve was picking up the neighborhood kindergartens for school Katie told one of the girls,

"Today is my birthday...Make sure you come over and bring me a present and then leave."
Some more statements for us to add to the "Katie-ism Book". We ended up having fun on Saturday even though it was just family. Mom and Pop came up from Ferron and of course brought lots of gifts. We had a cute "Princess" cake and for dinner their favorite food-PIZZA and CHEESY BROCCOLI, as they requested. They received some cute presents. The neat thing about this age is they are still just grateful for whatever they get and don't complain.