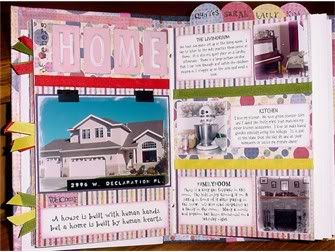 I finished up another Circle Journal today.
(CJ's are scrapbooks that you make. You choose a theme and do one layout that follows the theme and then you pass it on to another person who adds a layout to it and then mails it off to another person and so on until your journal comes back to you. There are usually 6-8 people in a group.)
I did my first CJ for CKU in August. My theme for that one was music. I did it with a group of strangers, but it was neat to get to know each other through out different layouts. This time I am doing it with my Maine buddies. I decided my theme would be HOME. And instead of using a 6x6 or 8x8 album I took an old hardbound book and ripped out the guts. Then recovered the book and added my own pages. I think it looks really cute. I used some bright print paper. Then at the end of the CJ, I made a little section where I want them to add their favorite quotes. I look forward to getting everyone else's CJ and seeing what theme they came up with. I think these will be such a funny activity because some of us have moved away: Me in Utah, Kathy in Arizona, Michele in North Carolina, and the other 3 are still in Maine.
So, I signed up for My Girlfriend's Kitchen yesterday. I am going next Tuesday with a bunch of women from the neighborhood. In case any of you don't know what this is...You go to My Girlfriend's Kitchen and prepare 12 meals for your family. Take them home, freeze them and whip them out on those crazy days. The menu looked pretty yummy and I am all for anything that could help with the night time meal MADNESS!!! I am hoping the kids will like the meals I chose. I will let you know what it is like incase any of you are interested in giving it a try.