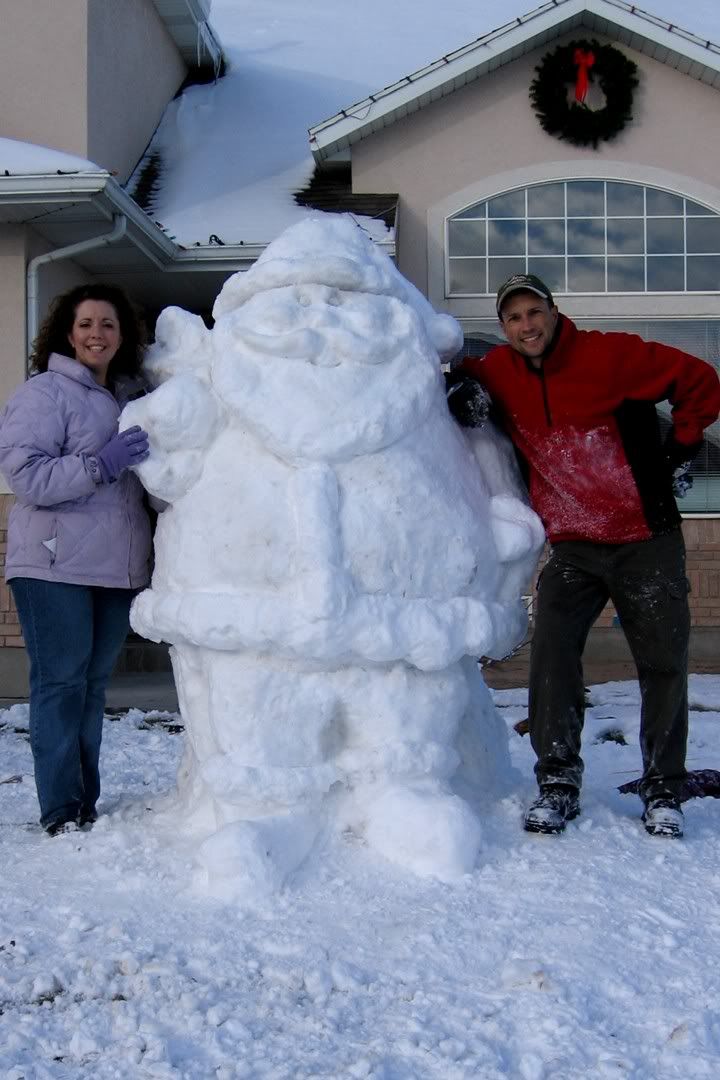 My husband has so many talents and things that he is good at, one of the neatest talents he has is being able to create AWESOME snow sculptures. He has been doing them since he was a boy in Rhode Island. He talks about making snow forts in the woods with his brother Scott. When we were dating was when I was first exposed to it. We drove up to
Cuyamaca
and he suggested we make a snow sculpture. I had never even made a snowman, so when he said we would be recreating the Iwo Jima Monument I was shocked. But to be honest it had turned out pretty darn good. But it wasn't until we moved to Maine that his talent became fully known. He would produce some pretty awesome creations in our front yard, which was also a main road for coming or leaving town, and many people would stop and look. One Christmas he had done a nice relief of the Nativity and people stopped in front of our house on Christmas Eve and Christmas Day and got out of their cars and took photos of the sculpture as they stood next to it. We were actually contacted by the local newspaper and had an article written about his talent. He has continued his work here in Utah. Our neighbors have come to expect something neat in our yard within hours of a good snow storm. This is just
some
of the things that he has created in the past:
Sea

Serpent

Snoopy on His Doghouse

Darth Vader Mask

Large Teddy Bear

Castle

Nutcracker

A

Trojan

Rabbit (only Monty Python Holy Grail fans would understand)
We got another layer of snow last night, so this afternoon Steve headed outside and began his creation of Santa Claus which I have been asked for in the last few weeks. I even put on my coat and gloved and
lent
a hand to the sculpture. I think the "
Jolly Old Elf
" turned out pretty darn good. What do you think?