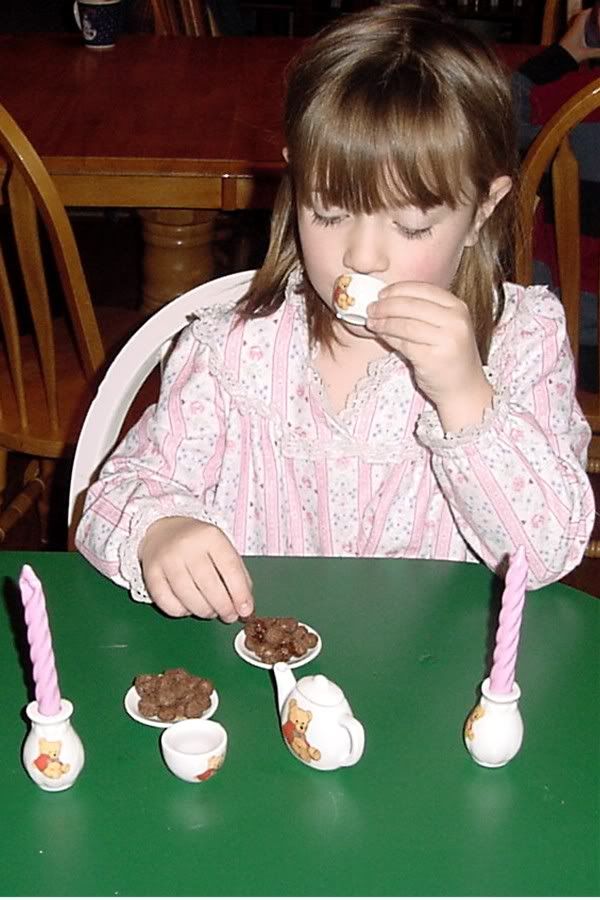 This weekend the kids and I went to Ferron to spend the weekend with my mom and dad and attend my Aunt Margaret's family Christmas Party. She had bought a small gift for each of the children, Becky received a barbie, Belle a plastic tea set, Zack a set of binoculars, but Katie got
"a teaset made of real glass."
She has loved this little set. She carries it everywhere she goes. I have actually hand to superglue some of the pieces back together because she does carry it absolutely everywhere and forgets that it is breakable. Well, yesterday morning Steve and I walked into the kitchen and there was Katie eating her breakfast with her teaset. She could only fit a couple of CoCoa Puffs on each plate, but it was still adorable.
The baking
FRENZY
has begun in my house. The last 2 mornings I have gotten up at 2:30 am and began my baking. I actually enjoy doing it while everyone is in bed. I turn on an old movie like Philadelphia Story, West Side Story or His Girl Friday and bake away. It was kind of funny...yesterday at about 3:00 am as the mixer was going full blast, Belle wandered down stairs all ready for school. I had to send her back to bed. Little did she know that her mother is a nut. I keep telling myself that I will be able to sleep on December 26th.