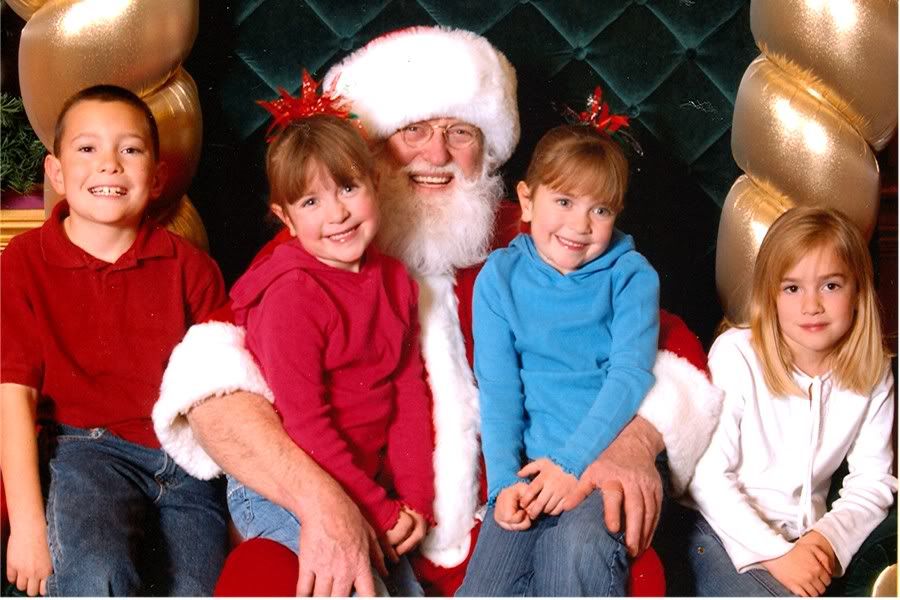 On Friday Steve, the kids and I headed to Salt Lake to see the "Candy Window" at ZCMI Center and have dinner with Mom and Pop. I was thrilled when we walked past the store front that is housing Santa this year and saw there was no line. HOLY MOLY...GRAB the KIDS...Before you knew it they were on his lap telling him their wishes and wants and we had a pretty good picture and were on our way all in the matter of minutes. This is a first for me. Every other year we have had to come with snacks and activities to help pass the time of standing in line. What an awesome Christmas present for me.
My weekend has had ups and downs.....
Good news
...The baking frenzy has come to an end.
Bad news
...I probably won't get my pages done to submit for the Polar Bear Press DT Call.
Good news
...All my neighbor goodies have been packaged and delivered.
Bad news

...
Missed tithing settlement last Tuesday
Good News

...
The clerk called Sunday after church and said we could get it done right then, and not to bother changing into church clothes. We were in and out in 4 minutes. LOVED IT!!!!
Bad news
...I spent hours dipping pretzel rods in caramel and chocolate only to find out later the chocolate had not tempered correctly. YIKES!!!
Good news

...
Chargers beat the Colts yesterday (
yes..I am a closet football fan. I even have a fantasy team)
Well, I am off to tackle those Polar Bear Press layouts...Wish me Luck!!!