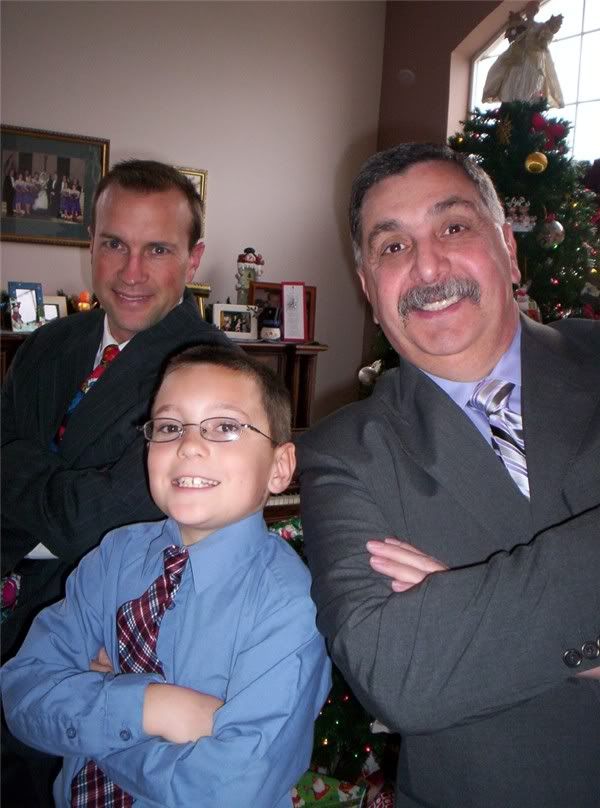 The picture was taken on Christmas morning before church. These are the 3 most important men in my life.
First there is my Pop. I have always been Daddy's Little Girl. And in the later years of Pop's life we have gotten closer and have done much more together. I am so appreciative of all the changes he has made in his life that have helped in making our relationship even better.
Second is my very best friend and husband, Steve. I have often said that I had spent many nights wishing on stars for Prince Charming and then he came into my life and is more than I had even wished for.
The last, but certainly not least is my first baby, my son Zack. What an incredible little boy. He has made me feel a kind of love I did not even know existed until the first moment I looked at him after he was born.
Sorry, I guess with this year winding down and thinking of everything I am grateful for I am getting a little mushy.
So Steve and I have no big plans for tonight. We will probably hang out, play a game of Settlers of Catan. Then maybe snuggle up on the sofa, turn on the fire, make up some hot cocoa and popcorn and watch a movie. Then around midnight we will watch the ball drop in Times Square. I have been thinking about some of my "goals" for 2006. I hate the word resolutions, so I will use goals.
1. I want to lose weight. I am really bummed with how "chubby" have I become this year. I also would like to be able to wear ALL those clothes I have in my closet.


2. Then I want to work on cooking "real" meals for my family. In past years I have been discouraged because one I make the meal every says, "do we have to eat
everything...I don't like this" So I stopped making big elaborate meals, even
though I really do like cooking.
3. I am going to try to be more diligent with my scripture study. I am so bad at this. I will probably try to do this early in the morning because doing it before bed at
night just is not working.


4. I am going to submit my layouts to magazines more consistantly. I want to be published at least 10 times. I also would like to have made a DT by the end of the year.



I hope you all have a fabulous 2005 and an even better 2006.