I DID IT!!!
I FINISHED MY POLAR BEAR PRESS ENTRY!!!
After I posted about not being sure I would finish my entries in time I got comments from some of my fellow Peas on my blog of encouragement and I was determined to get it done. THANKS EVERYONE!!! I worked on it until 10:00 am yesterday, then I had to head over to my kids school to help with the Reindeer Grams that the PTA had organized as a service project. They are candy sticks with a little "to" & "from" tag attached. The children pay $.50 each to send them to friends and teachers. The best part is all the money we make is donated to
Make a Wish
http://www.wish.org/ and then we will have helped in granting a wish to an ill child. I was there until 3:00 pm. I thought that was it I was not going to make the midnite deadline. But when I got home I told Steve I did not think I was going to be able to do it. He told me to go down stairs and work and he would handle dinner, the piano running and tending to the kids. So with his help and my determination at 11:20 pm everything was done and emailed to Polar Bear and then this morning this is what I woke up to: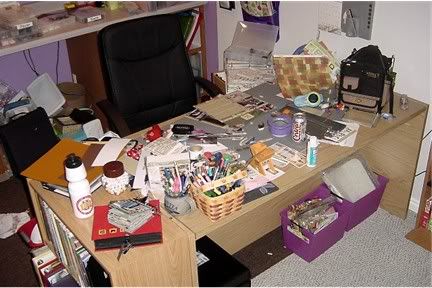 So needless to say I will be spending most of today putting my scrap area back together.
I just wanted to share a fun thing that was emailed to me. If you love A CHRISTMAS STORY this will bring a chuckle to your day. http://www.starz.com/features/christmasstory