We are back from our trip to California...
LET THE BLOGGING BEGIN!!!

We drove all day on Friday. I was suppose to see my friend Shawna and her family, but had learned that her son had the stomach flu and decided it would be best not to risk spreading that around. So we got to Anaheim about 7:00 pm. We ordered a pizza and hung out in our hotel room. The kids and Steve went out to the pool and tried to work out some of the wiggles from being confined in the car for so long.
We woke up on Saturday morning, got dressed and headed out to Knott's Berry Farm. The weather was fabulous: clear skies, 68 degrees. We headed straight to Camp Snoopy. The kids were excited by every ride we went to. The twins and Belle rode a "slow" scrambler and giggled the whole time. Steve decided that he and Zack would go and try to ride a roller coaster while the girls and I hit the more mellow rides. We rode Lucy's Tugboat boat which was fun and then a beginner roller coaster that the girls had a ball on.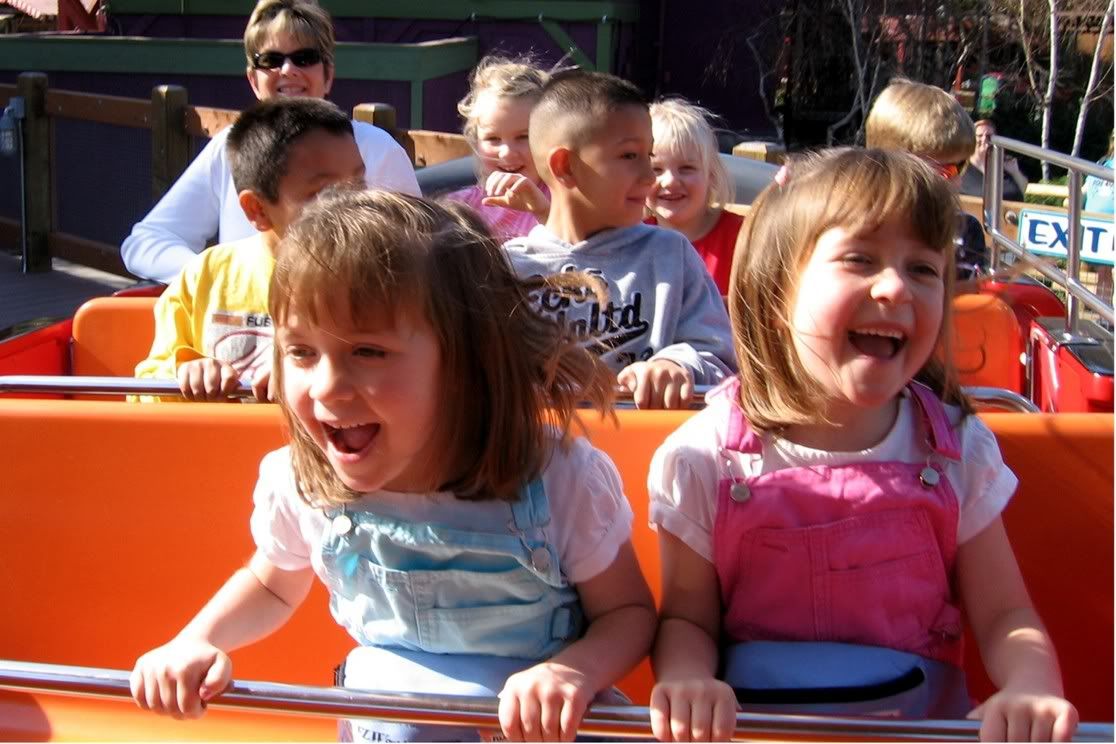 Steve and Zack still had not come back so we headed over to the Jaguar Coaster to see if they were there. I just happened to look up at Montezuma's Revenge over my head and saw Steve and Zack on the very top!!! HOLY COW!!!. So we waited as they got off that one and I asked Steve what happened. The whole time Steve and I are talking Zack is going on about how great it was and that he wasn't even scared a bit. So Steve tells me his story that as they got off the Jaguar he saw the top of Montezuma's revenge and it seemed pretty tame. He had no idea what the ride was. So they get into their seat and before he knew it he was upside down.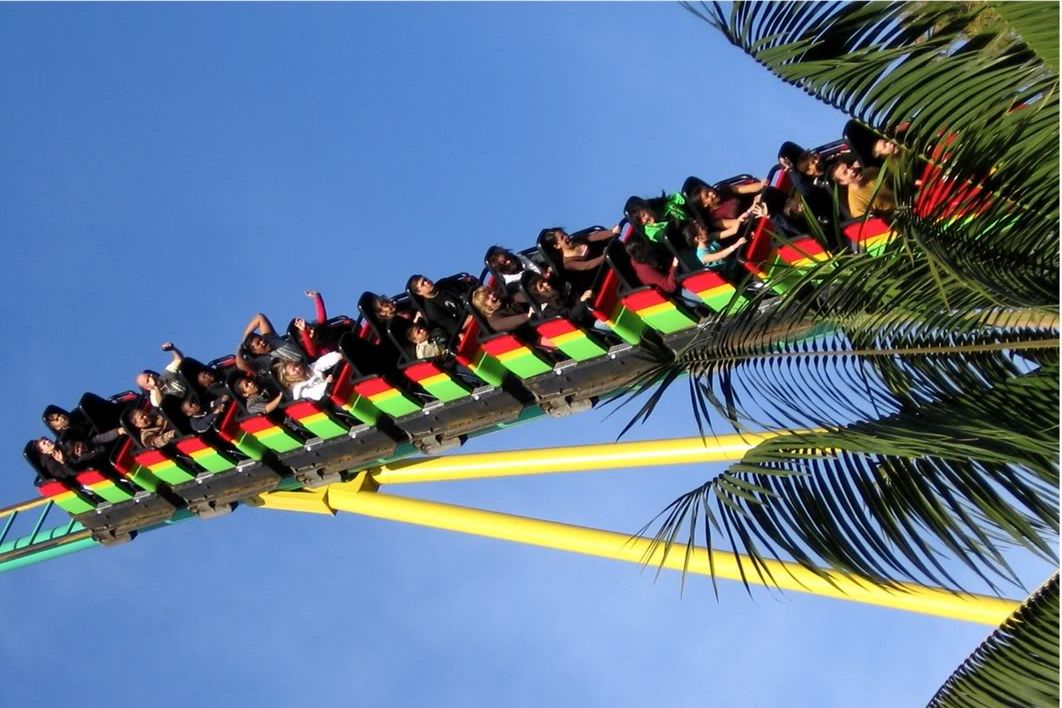 We rode the log ride 3 times. The kids loved that one and I was determined to get a perfect picture of us all as we headed down the big drop. Steve took Belle and Zack to ride some of the bigger rides while Katie and Becky and I hit the kiddie rides (
these are more my speed anyway
) As the girls and I wandered around Camp Snoopy we found Snoopy himself and got a photo taken with him.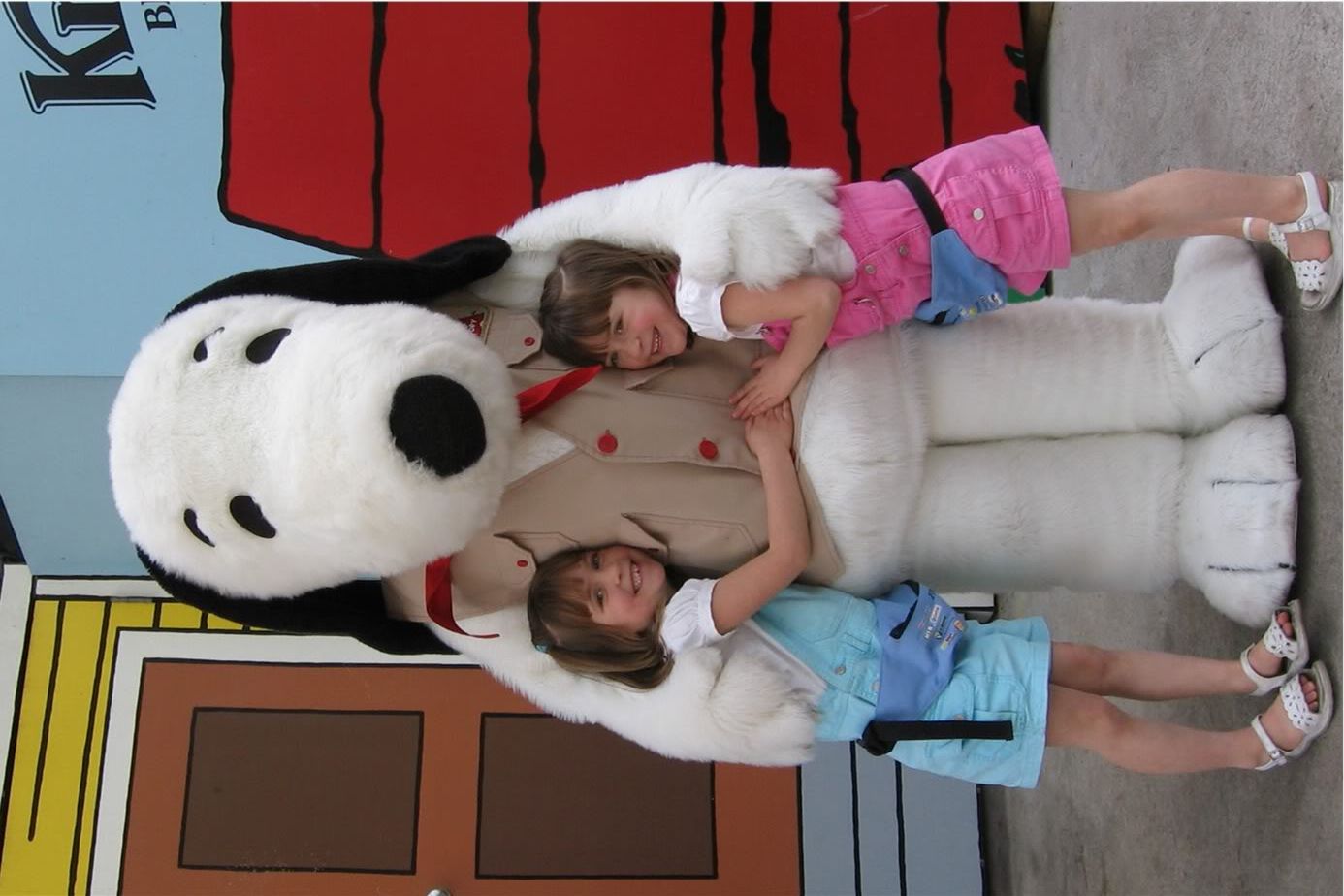 We had a great time and left the park about 6:00 pm and had dinner at Mrs. Knott's Fried Chicken. When we got back to the hotel Steve and the kids went swimming and I got in my jammies and proceeded to fall asleep. I was completely exhausted.