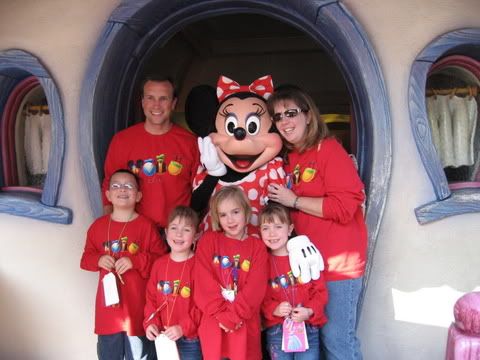 Our final adventure during our California trip was going to Disneyland. We got up and put on our matching t-shirts that "Santa" had brought to us for Christmas. It was a beautiful day, not a cloud in the sky and temperatures were predicted to be 70. We got to Disney, parked and took the tram to the park. We had to wait a few minutes for Mabel to get there, but once she arrived the adventure began. As soon as we walked through the gates we saw Alice in Wonderland and the Mad Hatter. We stood by as Alice began to flirt with Zack and the Mad Hatter tried to find a partner to dance with. Everyone was pretty shy except for Katie who took his had and began a little "soft shoe" It was too cute. The all began to skip around the square. We took our pictures with Alice and received her autograph and proceed on to Fantasyland, but were side tracked when we found out Snow White was on her way. We lined up to meet Snow White (
this is Mommies favorite character)
After we did the picture/autograph thing we tried to get into Fantasyland again, but was again hijacked when we saw Cinderella walking by. Becky was anxious to show her the autograph book she had made for the trip. It was covered with stickers of Cinderella. We finally made it into Fantasyland after we left Cinderella and got to ride:Pinocchio, Mr. Toad's Wild Ride, and Snow White and then we got to the Dumbo Ride. The kids were in heaven.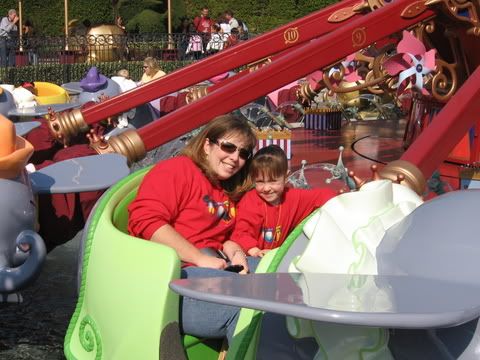 Katie said "weeee" as the she made the flying elephant move up and down. I just giggled. The kids were pretty excited to try the TeaCups. We split into groups of who wanted to go FAST (
Steve's group)
and the ones that wanted to go slowly (
my group).
Zack, Mabel and I managed to get the gold teacup. This made Becky a little pouty, but OH WELL!!!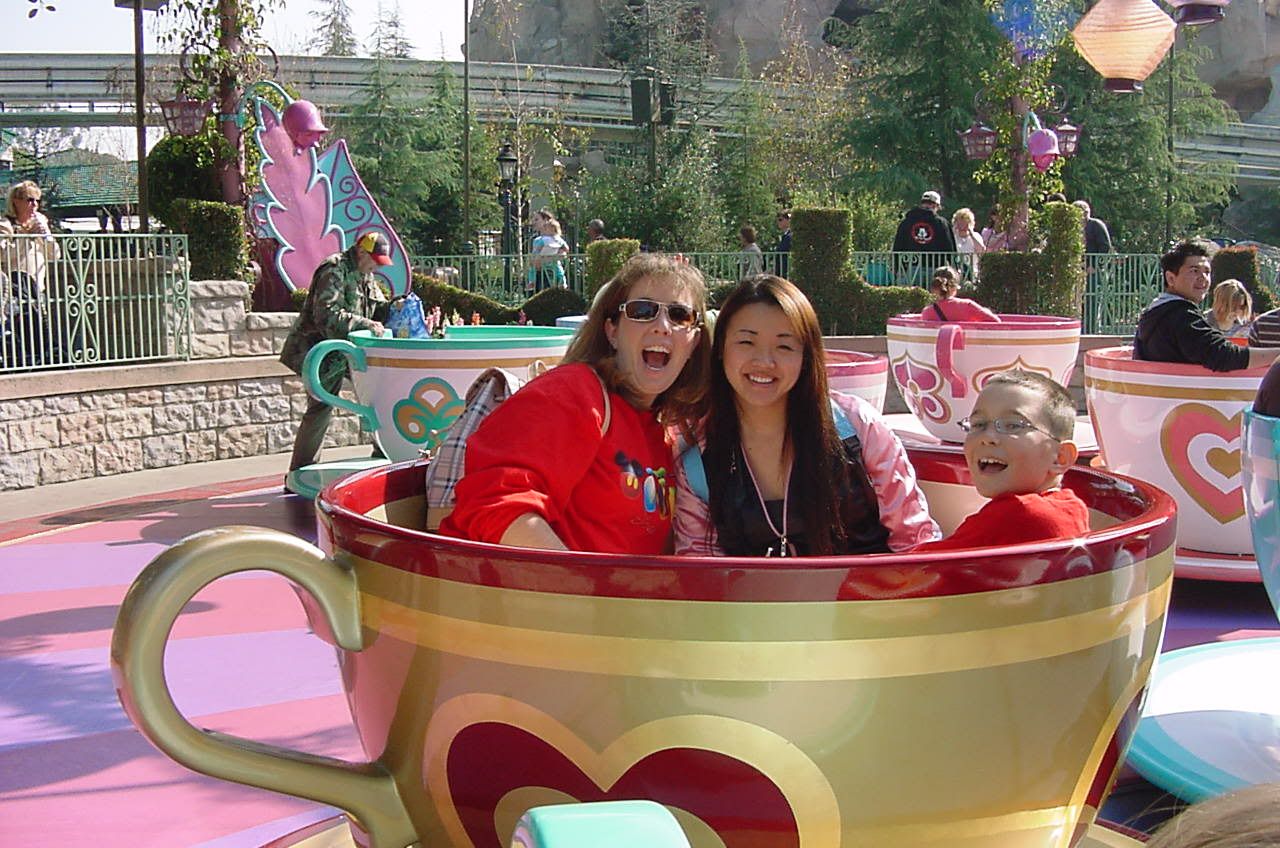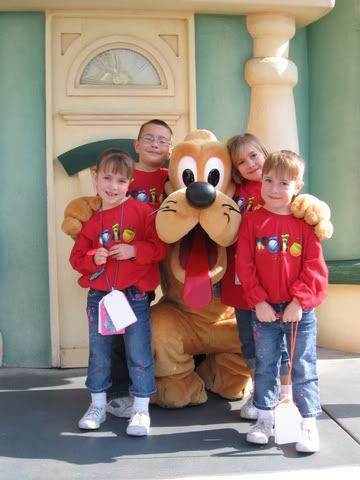 After Dumbo and the Teacups we did the Matterhorn and then went onto It's a Small World. I love that one except for the fact that the rest of the day you have that song in your brain. Next we headed to Toon Town and saw Pluto, Goofy and then Minnie Mouse. We took a family picture with Minnie and then Steve had his little flirtation with the pretty mouse. After lunch, which was nothing too exciting, we headed to Splash Mountain and after getting off got a Fast Pass so we could return later and ride again. That was by far the whole families favorite ride.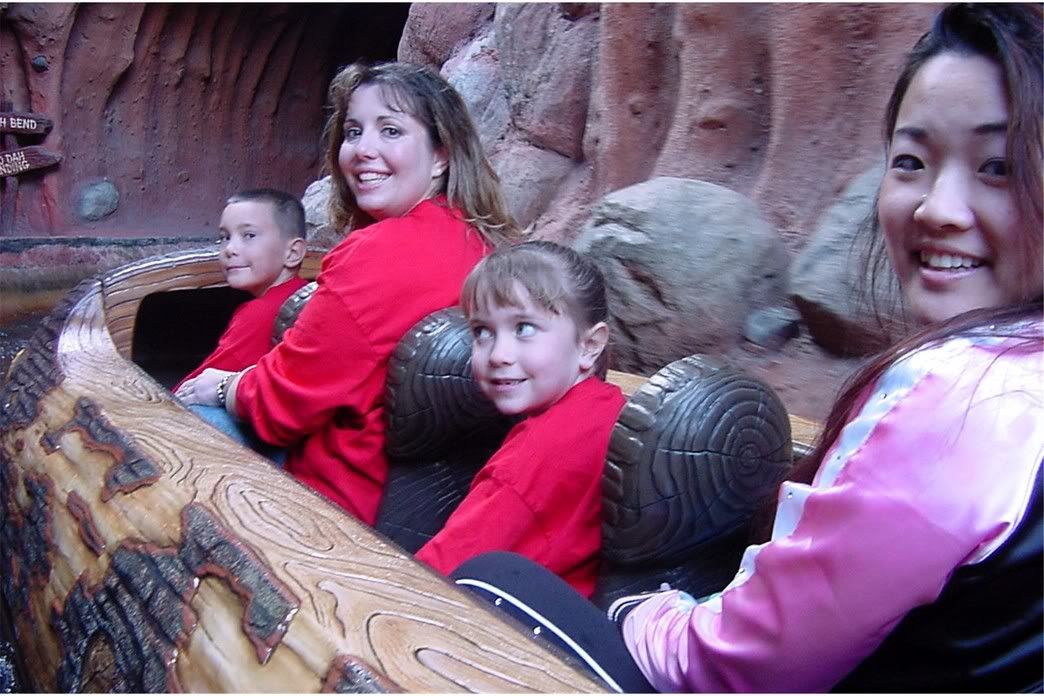 The best part was getting off the ride and laughing at the funny expressions on everyone's faces. While waiting to ride Splash Mountain a second time we rode The Jungle Cruise. The kids enjoyed that one too. The off to Splash Mountain again. In the evening we did Star Tours. The children were sure that we had actually taken off. That was pretty cool. Then one of my favorites was the Buzz Lightyear ride. I love games!!! By 8:00 we were all pretty tired and the park was going to be closing so we headed out to our car. The was the funniest trip I think we have ever done as a family. The best part for me was looking at the kid's faces as we road these rides. The excitement and twinkle that is in their eyes. I wanted to hold on to that feeling so badly, but before I knew it it was Tuesday morning and we were driving back to Utah. I am so grateful for ALL the pictures we took and that I can go back and see that magical look in the kids eyes anytime I want.