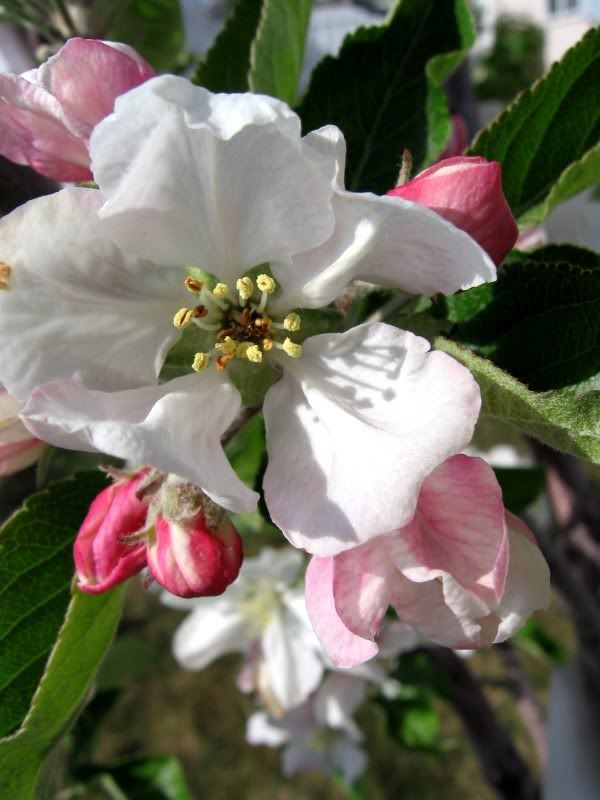 *
This is a picture of the
apple blossoms
on my
macintosh
tree I took just 2 days ago. The weather has been BEAUTIFUL!! But then today dipped into the high 30s and it actually snowed. I feel like I pull out my flip flops and
capris
and start thinking about storing the snow clothes and then the weather changes. I know we need the moisture, our lawn was just beginning to look a little dry in areas.
*
So, I am excited. In the last few weeks my
kidlets
have gotten a little lazy about putting away their things. So I came up with
a plan
that if I find something laying out, I take it and put it in a box in my room and if they need/want it back they have to do an extra job to earn it back. So in the last 2 days I have had both my plastic cupboard and pots and pans cupboard organized, my floors swept and the floor boards wiped down. The way I see it, its a win-win situation: they will either learn to put away their things or I will end up with a CLEAN house!!!
*
Today is the 18
th
and Wendy and I did all of our
Visiting Teaching
. That is a BIG deal. We are usually scrambling during the last week of the month to get it done. We had a really good visit with all of our ladies. I feel so blessed to have that program...sometimes it seems like one more thing to have t do ever month, but once we have done it I feel so good. One of the women we visit is a little bit older and an empty-
nester
and I know I probably would never have "really" gotten to know her if she was not assigned to me. And I am just love the little conversations we have with her.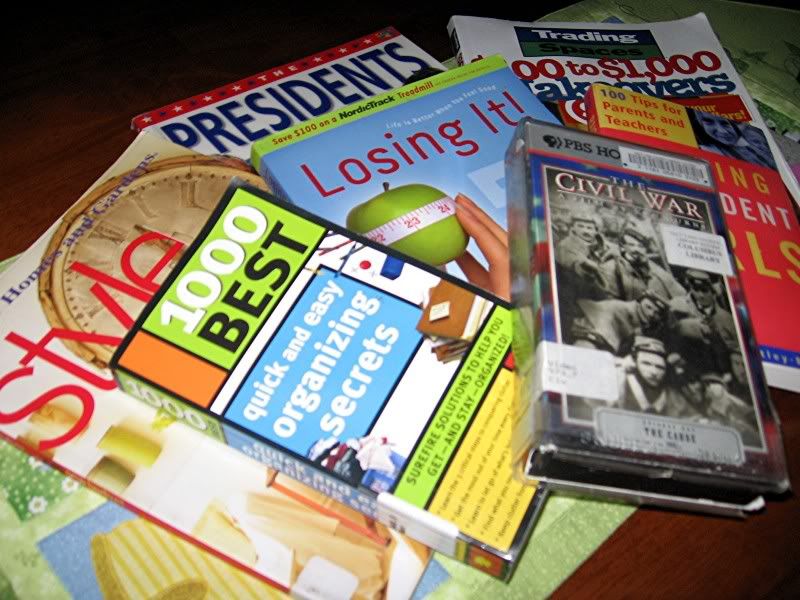 *
Have I ever mentioned how addicted I have become to the
library
? I use to purchase any book I read, but in the last few years I have been checking out all sorts of stuff. Today I went there to drop off a load of books that we had checked out and walked out with my arms loaded with
just
as many books:
1000 Quick and Easy Organizing Secrets

How to Raise Confidant Girls

Trading Spaces $100-$1000 Makeovers

The Presidents of the United States

Better Home and Gardens Style on a Budget

The Civil War Documentary Video

Losing It! An

LDS

Guide to Healthy Living
So once I am done updating my blog I am going to slip on my jammies and begin flipping through the books.