Yesterday was the Scrapbook Expo at the South
Towne
Center. These happen twice a year and I have gone every year since we moved here. Unfortunately Steve had to work this weekend so I was unable to attend both days like I usually do.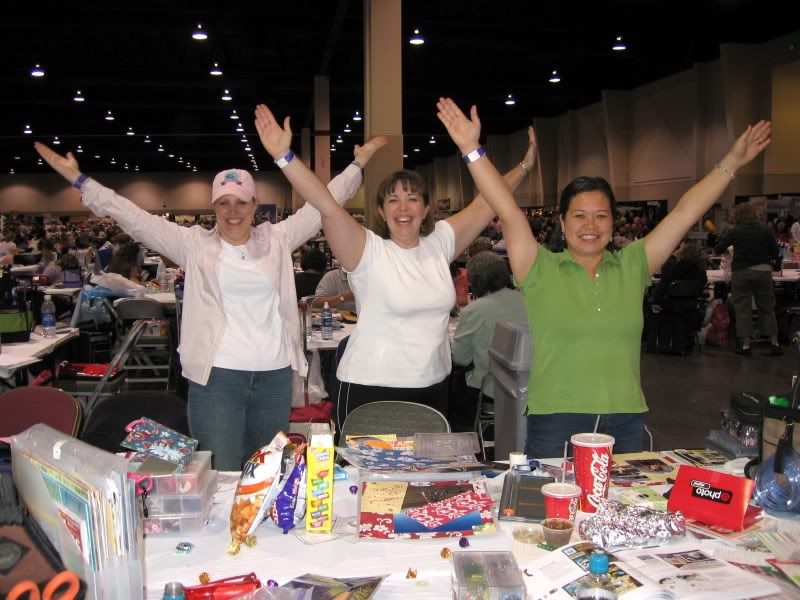 I woke up at 3:00 am with thoughts of what I should bring and the excitement of 15 hours of
scrapbooking
. I tried going back to sleep, but just couldn't so I unpacked and then repacked my scrap bag. Dayna, Sandra and I drove together. We arrived at the expo center to get in with the "Early Birds". There was already a HUGE line there for the doors opening at 9:00 am. We planned on a couple of other friends
joining
us. And my usual accomplice in these
scrapbooking
events, Suzanne, went to Boston with her husband.
We all took a couple of classes. I made a couple of different mini albums. For one we used envelopes and cards to make the album and the box that the set of cards came in was altered to be a carrying case for the books. I also made some 12x12 layouts using some great papers and felt flowers. My friend Sandra made some cute "
chach
-
kis
" using wooden blocks.
After the kids got out of school Sandra and I had both of our daughters, Kara and Belle, dropped off and the hung out with us and did some cropping of their own. They all had a great time. They participated in the dance contests and even did one of the make and takes.
Sandra's very cool husband, John, picked up Cafe Rio for us and
brought
it to the Expo Center. That was a HUGE treat. Cafe
Rio's
Pork Salad is one of my favorite meals. Of course we had some chocolate and other goodies.
Probably the best time for me was doing the
macarena
with Sandra and then being a little bi silly as we did the Chicken Dance and the YMCA. I am so blessed to have such good friends to spent time with laughing, sharing ideas and thoughts.
Can't wait until the next one, the end of September. Some of my friends from Maine are suppose to be coming and
participating
with me and my neighbors.