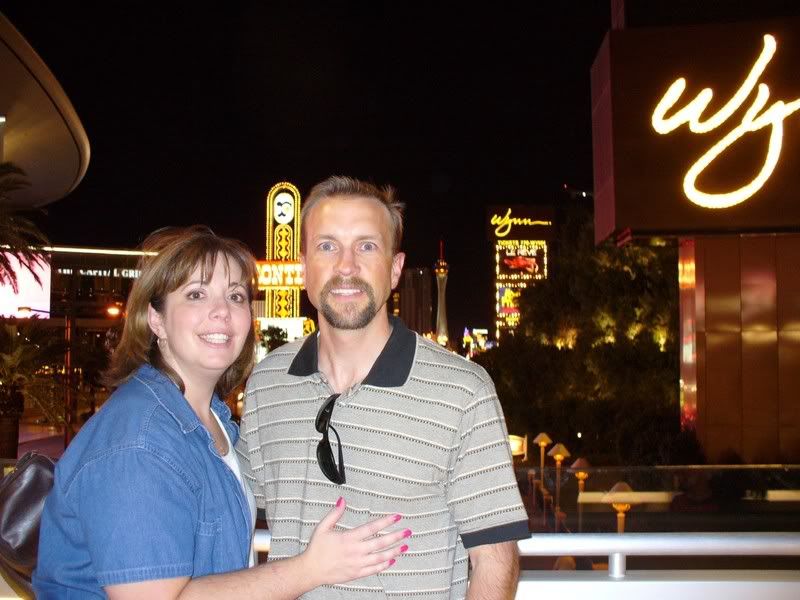 Steve and I are back from our road trip to Las Vegas. We left in the a.m. on Monday. I have always thought that the drive and conversations Steve and I have on our road trips are the best part of our vacations. I was not disappointed this time either. Before I knew it we were in Vegas and looking for the "Flamingo exit". Once off the highway it was easy to find The Palms hotel.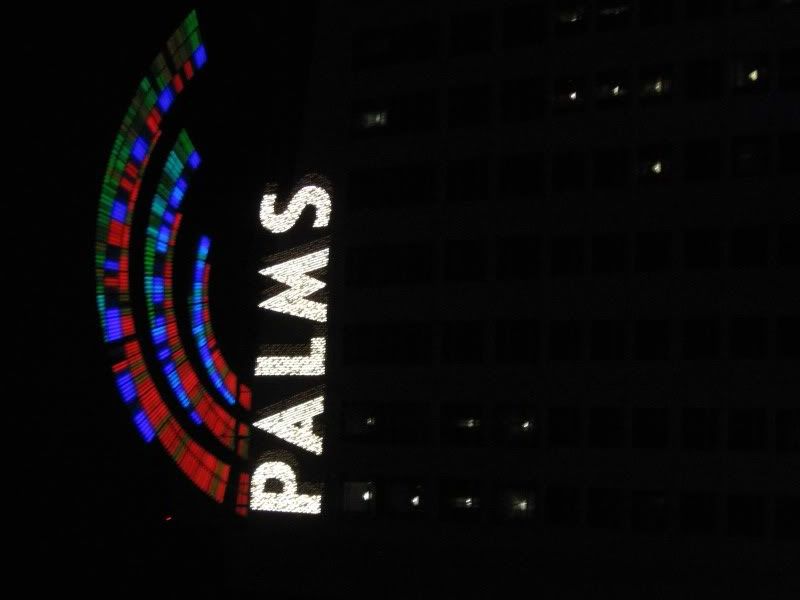 I had never stayed at The Palms, but had read some good reviews in a guide book and was not let down once we arrived. Our room was on the 12th floor. There was a bouncer that stood outside of the elevators and wouldn't let you upstairs unless you had your rooms key. The rooms were nice and roomy. We had 2 double beds in the room that was decorated very contemporary. HUGE bathroom with a good size jetted tub. (
this came in quite handy after a day of walking the strip)
These were by far the most comfortable beds I have ever slept in away from home.
Once we were settled in the room, we headed out to the strip. I will share with you some of the high points. Our first stop was at the Riveria Hotel. We needed to get our tickets to see La Cage and then we just walked around and made it back to get seated for the show at 7:30 pm. I had never seen female impersonators other than on tv. They are incredible. There was a person impersonating Brittany Spears and he looked better than she currently looks. We also so Bette Midler, Diana Ross, Cher, Judy Garland, Celine Dion, Dolly Parton, Reba McEntire. I laughed so hard at this show. It was an impressive show. I tried to take a picture of Steve with the "star" of the show in costume, but the picture turned out blurry-BUMMER!! On Tuesday morning we went to the Aladdin hotel and partook of the buffet they had set up for breakfast. We ate so much there we did not eat again 8:00 pm for dinner. One of our 1st stop that day was to M&M World. They have thought of absolutely everything that you could possibly put the M&M logo and have done just that. We shopped all 4 floors and even watched the 3D cheesy M&M movie. Believe it or not we spent an hour there. We peeked into many of the hotels, but we run out very often due to the amount of smoke there was in some of them.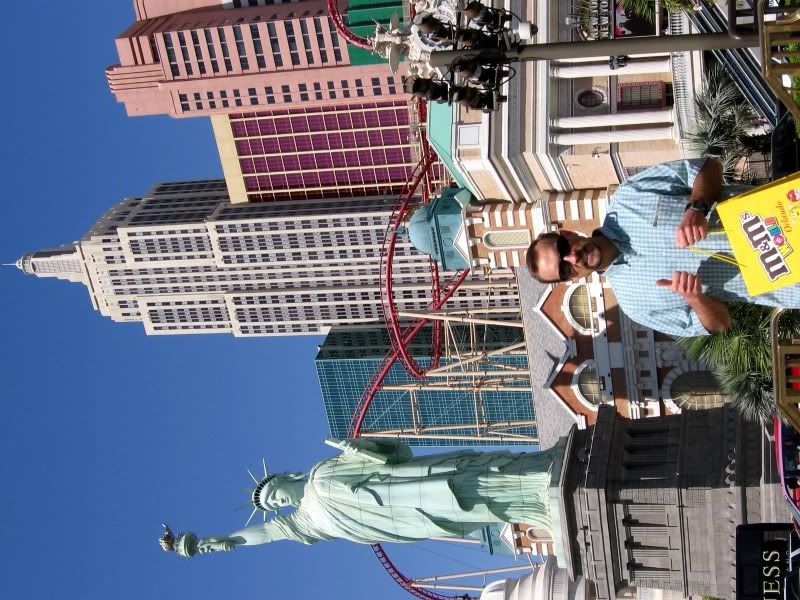 We browsed some of the stores at the Wynn. It just blows my mind that people could actually shop there. I did go into one of the shoe stores and had a brief encounter with a beautiful pair of shoes that cost $650. It was a short lived relationship. We got to the Luxor around 12:00, which was the same time my feet were telling me that the sandals I had been wearing we not great for walking up and down the HOT sidewalks of the strip. So Steve volunteered to walk AL THE WAY BACK TO THE TRUCK and retrieve my shoes and socks. He took my sandals with him so I was stranded sitting on a pillar at the Luxor reading my Las Vegas guide, barefoot. He finally returned with my comfy shoes, which made it possible for me to complete the remainder of our walking trip, 50 minutes later. We walked back to the Bellagio and watched the fountains do their performance. It was absolutely beautiful. After the fountains we found a place that they gave foot massages and Steve offered to pay for one for me. I took him up on his offer and received a much needed foot massage for 10 minutes. IT WAS FABULOUS!!! After putting my shoes back on to my refreshed feet, we ran into an Elvis impersonator. I got my picture taken with him as he sang "Love Me Tender"...too funny. To make the whole Vegas experience complete we even found a showgirl for Steve to get his picture taken with.
We definitely determined that this was not a place that we would want to EVER bring the kids. Just walking down the street there are those little guys that try to hand people what looks like business cards, but have pictures of scantily dressed women "for a good time". We began to refer to them as adult Pokemon Cards. Steve got so frustrated by the whole concept that he decided he would "trade" them for the one the last guy we walked by had handed him. At the Rio Casino they has a free show. It had a Mardi Gras feel. Great music, but there were these dancers on the stage that little by little stripped down to panties and a bra. The dancing was quite provocative. I actually enjoyed the show, but was surprised by the parents that had there little kids watching the show. YIKES!!!
We truly had a great time in Vegas. Like I have said before, the best part is just the time Steve and I spend together.
Don't forget to look at the slide show on the right and check out some more of teh photos from the trip.